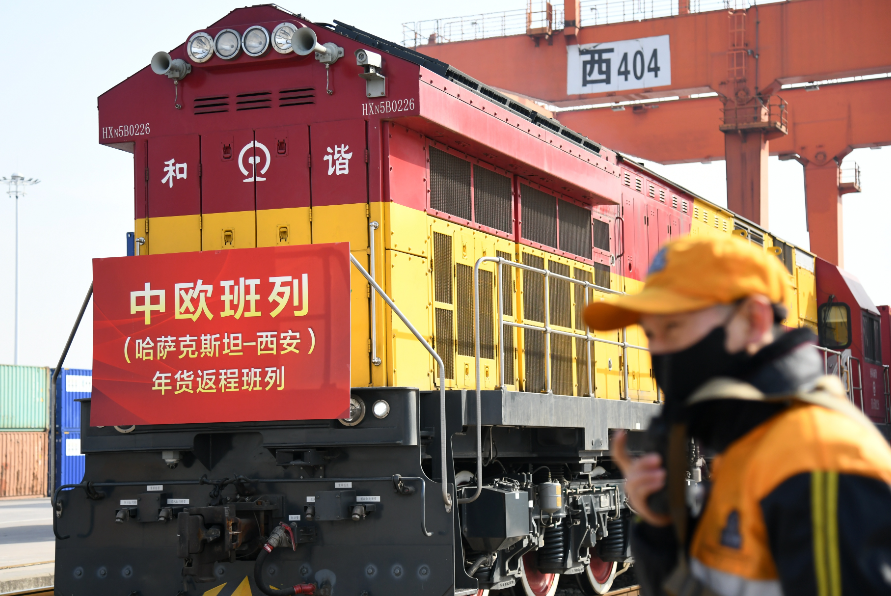 A returning China-Europe freight train from Kazakhstan arrives at the Xinzhu Station of China Railway Xi'an Bureau Group Co., Ltd. in Xi'an City of northwest China's Shaanxi Province, Feb. 3, 2021. (Xinhua/Li Yibo)
BEIJING, April 12 (Xinhua) -- A total of 83,528 new market entities had been established in the Shaanxi Free Trade Zone (FTZ) as of the end of March this year, according to Shaanxi Daily recently.
The Shaanxi FTZ had seen 57,517 newly established enterprises, with the newly-added registered capital of about 931.24 billion yuan, according to a press conference held recently by the local provincial government.
Since its inauguration in April 2017, the Shaanxi FTZ has carried out in-depth institutional innovation and played a leading and exemplary role in deepening reform and opening-up in the province.
The FTZ has constantly improved the business environment. It handled a total of 68,000 pilot projects for the reform of separating business licenses from administrative permits, benefiting more than 24,000 market entities, in 2020.
Thanks to its reform and innovation, the Shaanxi FTZ in 2020 saw 88 foreign-invested enterprises established, with the foreign capital of 3.78 billion U.S. dollars in actual use, accounting for 15.3 percent and 44.8 percent of the province's total, respectively.
Meanwhile, the FTZ has introduced 14 airline regional headquarters including China Eastern Airlines, with the airport economy exceeding 10 billion yuan.
It has also strengthened economic cooperation and cultural exchanges with the Belt and Road countries. From January to March this year, the China-Europe freight trains departing from or arriving at Xi'an made 879 trips, 1.4 times those of the same period last year. (Edited by Hu Pingchao with Xinhua Silk Road, hupingchao@xinhua.org)