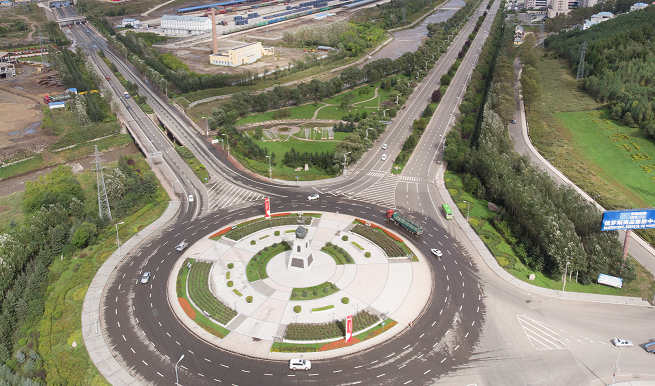 Aerial photo taken on Sept. 9, 2020 shows the Suifenhe Area of the Heilongjiang pilot free trade zone (FTZ) in northeast China's Heilongjiang Province. (Xinhua/Zhang Tao)
BEIJING, April 9 (Xinhua) -- Suifenhe Area of China (Heilongjiang) Pilot Free Trade Zone (FTZ) has recently introduced policies to promote the regional economic development, the Heilongjiang Daily reported on Friday.
New industrial projects with actual funds in place of more than 500,000 U.S. dollars by the foreign-invested enterprises will be rewarded at 4 percent of the actual investment amount, after they are put into operation, and the maximum amount shall not exceed 10 million yuan, according to the Administration of Suifenhe Area of China (Heilongjiang) Pilot Free Trade Zone.
For new industrial projects settled in Suifenhe FTZ, if the total investment in fixed assets including land, plant, equipment of the project reaches 30 million yuan, 50 million yuan, and 100 million yuan, the local authorities will reward 1.5 million yuan, 3 million yuan, and 7 million yuan, respectively, for supporting infrastructure facilities.
Enterprises in the Suifenhe FTZ will also be rewarded if their investment in R&D reaches more than 1 million yuan.
In August 2019, the State Council, China's cabinet, officially approved the establishment of the China (Heilongjiang) Pilot Free Trade Zone. As one of the three areas in the Heilongjiang FTZ, the Suifenhe Area covers an area of 19.99 square kilometers. (Edited by Hu Pingchao with Xinhua Silk Road, hupingchao@xinhua.org)