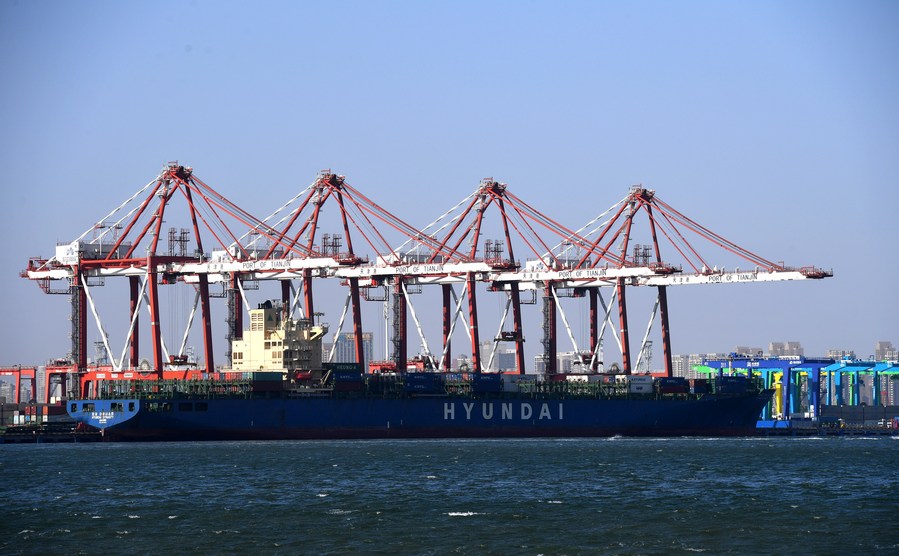 A container ship is seen at the Euro-Asian international container terminal at the Tianjin Port of north China's Tianjin Municipality, Jan. 11, 2021.  (Xinhua/Zhao Zishuo)
TIANJIN, April 8 (Xinhua) -- China Tianjin Shipping Index (TSI), an indicator of northern China's ocean freight rates for both international and domestic shipping markets, is expected to maintain small fluctuations in the near future, according to industry insiders.
The TSI has little room for a significant rise due to the alternately upward and downward of Container Freight Index and Dry Bulk Freight Index, said analysts.
The TSI closed at 1,243.21 points for March 2021, up 2.66 percent month on month, the smallest increase of the year. The index has been up for 10 consecutive months and doubled since last June, according to the latest data released by the Tianjin International Trade and Shipping Service Center (TJITCS).
TSI is consisting of four sub-indices, which are Tianjin Container Freight Index (TCI), Tianjin Bulk Freight Index (TBI), Tianjin Liquid Freight Index (TLI), and Tianjin Domestic Freight Index (TDI).
According to the TJITCS, the continuous rise of the TBI contributed to the growth of the TSI for first quarter. Meanwhile, TCI has returned to the level of last December after a rapid rise.

Affected by the COVID-19 outbreak, the operation efficiency of the overseas ports has declined, resulting in the delayed return of the containers to the domestic market. the TCI nearly tripled in the fourth quarter of last year. However, this trend stopped after the Spring Festival.
As the sustained increase of transport capacity along European, Mediterranean and American routes, the TCI has declined for 6.36 percent in March. The stuck in the Suez Canal has resulted in a short-term impact on the voyage adjustment, but it is hard to cause too much influence on the rise of freight rate, said Yang Jing, director of TJITCS.
"The freight rate of several Asian routes have been declined, but the shortage of containers still exist, which may cause persistent uncertainty." said Sun Ying, assistant general manager of Zhenhua Logistics Group Co., Ltd. Tianjin Branch.
The TBI rose 23.15 percent in March due to the booming market of coal, grain and metal. Shipowners are willing to increase their prices till now.
"Compared with the fluctuating of international shipping market, the domestic freight rates are relatively stable, showed by the TDI. All of this may contribute to small fluctuations for TSI in the near future," said Yang Jing.
(Contributed by Wang Ning and Li Ting, edited by Bao Nuomin with Xinhua Silk Road, baonuomin@xinhua.org)