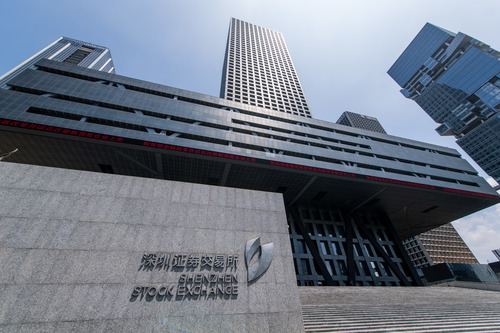 Photo taken on Aug. 24, 2020 shows the Shenzhen Stock Exchange in Shenzhen, south China's Guangdong Province. (Xinhua/Mao Siqian)
BEIJING, April 8 (Xinhua) -- The Binhai New Area in north China's Tianjin Municipality signed a strategic cooperation agreement with Shenzhen Stock Exchange on Tuesday, with an aim to carry out cooperation in strengthening information exchanges and cultivating reserve companies for listing.
According to the agreement, the government of Binhai New Area will notify the Shenzhen Stock Exchange of the resource information and supportive policies of the companies to be listed in the bourse, while the Shenzhen Stock Exchange needs to reach out to key enterprises and build a management information system for the Binhai New Area Finance Bureau.
In addition, the Shenzhen Stock Exchange is expected to help Binhai New Area publicize and issue fixed-income products including corporate bonds and asset securitization, and support it to carry out the infrastructure Real Estate Investment Trusts (REITs) pilot.
In terms of talent training, the two sides will establish a high-level consultation mechanism, jointly hold training courses, and exchange personnel for temporary study. (Edited by Zhang Yuan with Xinhua Silk Road, zhangyuan11@xinhua.org)