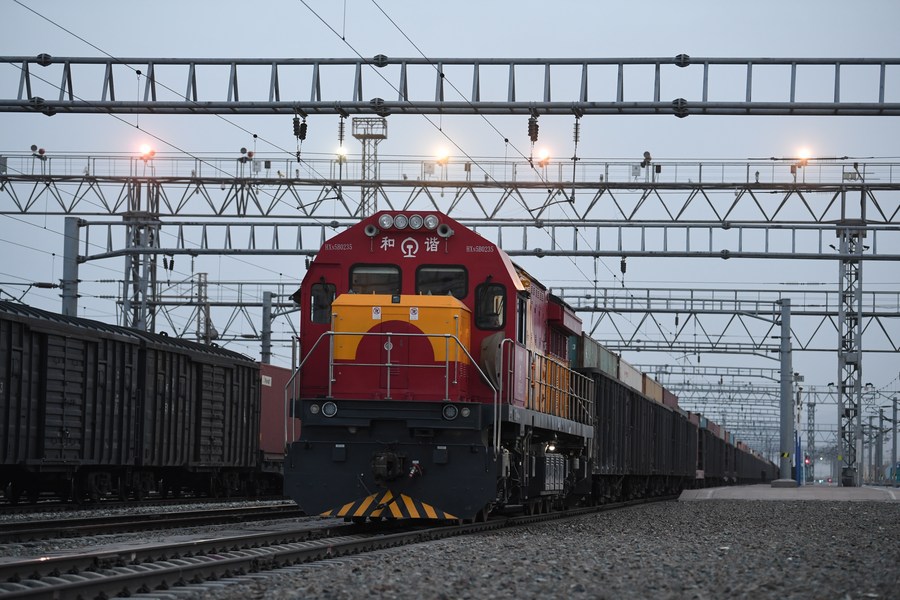 A China-Europe freight train pulls out of Alataw Pass in northwest China's Xinjiang Uygur Autonomous Region, April 12, 2020. (Xinhua/Sadat)
BEIJING, April 8 (Xinhua) -- Hefei city, capital of east China's Anhui Province, has handled a total of 108 China-Europe freight trains in the first quarter of this year, with a year-on-year increase of 33.3 percent, reported Chinanews.com citing statistics from Hefei International Land Port recently.
It is worth mentioning that from March 5 to 6, within 24 hours, four China-Europe freight trains departed from Hefei to Germany, Russia, Kazakhstan, and Uzbekistan, with local cargo accounting for more than 50 percent.
In the first quarter, Hefei launched two new China-Europe freight train routes.
Among them, on January 31, a China-Europe freight train with 100 TEUs of cargo set off to Prague, transporting goods worth of nearly 5.1 million U.S. dollars, with a cargo weight of more than 590 tons.
On February 4 this year, the first LCL business operated by Hefei International Land Port was launched, as three 40-foot containers full of anti-epidemic materials were completed in the self-operated warehouse. This move is conducive to providing comprehensive services for international freight and exploring the diversified development model of China-Europe freight train services.
(Edited by Bao Nuomin with Xinhua Silk Road, baonuomin@xinhua.org)