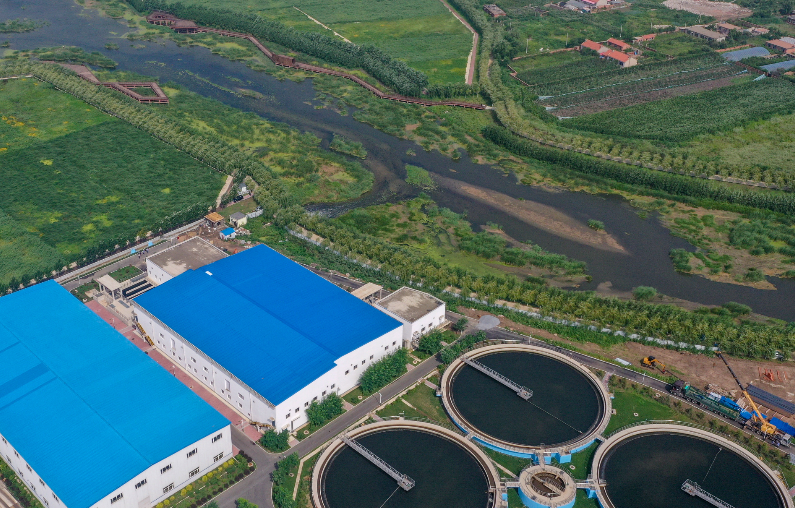 Aerial photo taken on Aug. 4, 2020 shows a wastewater treatment plant and the Siping West Lake wetland park in Siping City, northeast China's Jilin Province. (Xinhua/Zhang Nan)
BEIJING, March 31 (Xinhua) -- China is expected to generate more investment opportunities in the water treatment market in the 14th Five-Year Plan period from 2021 to 2025, the Shanghai Securities News reported on Wednesday.
According to the E20 Institute of Environment Industry, scale of the country's recycled water is projected to reach about 85 million cubic meters per day in 2025.
Xue Tao, executive director of the E20 Institute of Environment Industry, said that with the advancement and deepening of the rural vitalization, the rural public services and environmental renovation will usher in a critical period of opportunity.
It is worth noting that the integration of urban and rural water supply and the implementation of the water supply services in villages and towns will be a prominent trend during the 14th Five-Year Plan period.
TF Securities believes that assuming that the utilization rate of recycled water in the country should increase from the current 15.98 percent to 35 percent in 2025; total investment in membrane construction of recycled water utilization facilities would be in a range from 105.5 billion yuan to 211.0 billion yuan. Specifically, the membrane material sales and membrane replacement market would be about 33.3 billion yuan.
Some research institutions predict that during the 14th Five-Year Plan period, the overall market space for the country's sewage treatment and upgrading will be about 80 billion yuan. It is predicted that the country's rural sewage treatment rate will reach 70 percent in 2035, generating a market scale of 200 billion yuan.
China has made historic breakthroughs in protecting water ecology and the environment in recent years, the Ministry of Ecology and Environment said on Tuesday.
Through a battle against water pollution from 2018 to 2020, all cities at or above the prefecture level had eliminated 98.2 percent of the 2,914 "black and odorous" water bodies nationwide as of the end of last year, said ministry official Zhang Bo at a press conference. (Edited by Hu Pingchao with Xinhua Silk Road, hupingchao@xinhua.org)