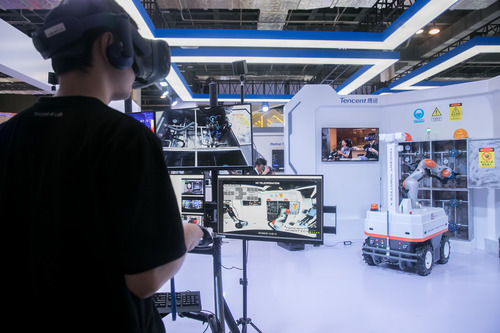 A visitor operates an inspection robot during the 2019 World Artificial Intelligence Conference (WAIC) in east China's Shanghai, Aug. 29, 2019. (Xinhua/Ding Ting)
BEIJING, March 25 (Xinhua) -- China's Ministry of Science and Technology showed support on Wednesday for Suzhou City in east China's Jiangsu Province and Changsha City in central China's Hunan Province in their construction of national new-generation artificial intelligence (AI) innovation development pilot zones.
Together with the previously approved pilot programs in cities including Beijing, Shanghai, Hefei, Hangzhou, Shenzhen, Tianjin, Jinan, Xi'an, Chengdu, Chongqing, Guangzhou and Wuhan as well as Deqing County, by far, China's new-generation AI innovation development pilot zones have covered 14 cities and one county.
According to the ministry, the Suzhou pilot zone would focus on major national strategies and the city's economic and social development, give full play to the important role of AI in empowering Suzhou's economic transformation and high-quality development, and promote the integrated development of the Yangtze River Delta.
The ministry requires Suzhou make full use of its advantage in manufacturing, promote the in-depth integration between AI and real economy, and focus on industrial Internet, industrial robots and equipment manufacturing to strengthen the research and development (R&D).
The Changsha pilot zone would make AI play an important role in building the city into a highland of technological innovation with core competitiveness, and help drive the high-quality development in the whole central China and the Yangtze River Economic Belt.
The ministry requires Changsha rely on its scientific, educational resources and industrial foundations, strengthen the R&D of AI technology and the application of innovative results. Changsha should center around intelligent equipment, smart factories and intelligent networked vehicles to accelerate R&D, improve intelligent infrastructure, explore advantageous resources, and expand intelligent industrial clusters. (Edited by Zhang Yuan with Xinhua Silk Road, zhangyuan11@xinhua.org)