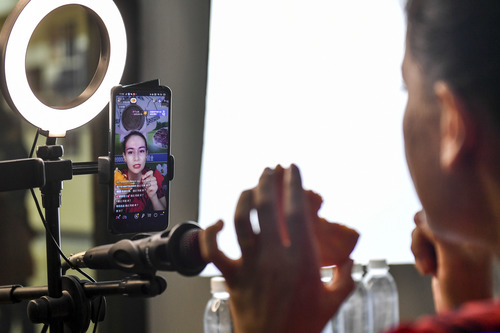 A staff member promotes nang flatbread via onlinelive broadcast at a food industry park in Payzawat County, Kashgar, northwest China's XinjiangUygur Autonomous Region, Sept. 12, 2020. (Xinhua/Ma Kai)
BEIJING, March 24 (Xinhua) – Northwest China's Xinjiang Uygur Autonomous Region registered a total of 7.725 billion yuan of online retails sales in the first two months of 2021, up 24.56 percent year on year, official data showed recently.
Xinjiang has achieved online sales value of 150 million yuan during the Chinese New Year (CNY) online shopping spree, which lasted from January 20 to February 18 this year.
In response to the local authorities' call on promoting the e-commerce sector, local enterprises in Xinjiang have taken proactive measures, such as issuing e-consumption coupons, to encourage resident's engagement in online shopping.
Xinjiang has made full use of the advantages of building online platforms for the local agricultural enterprises, distributors and consumers while guaranteeing products supply to online platforms in the region.
According to the local authorities, Xinjiang will further stimulate the vitality of social consumption this year by promoting cooperation between e-commerce platforms and business entities and holding various online shopping promotion activities.
(Edited by Jiang Feifan with Xinhua Silk Road, 346129473@qq.com)