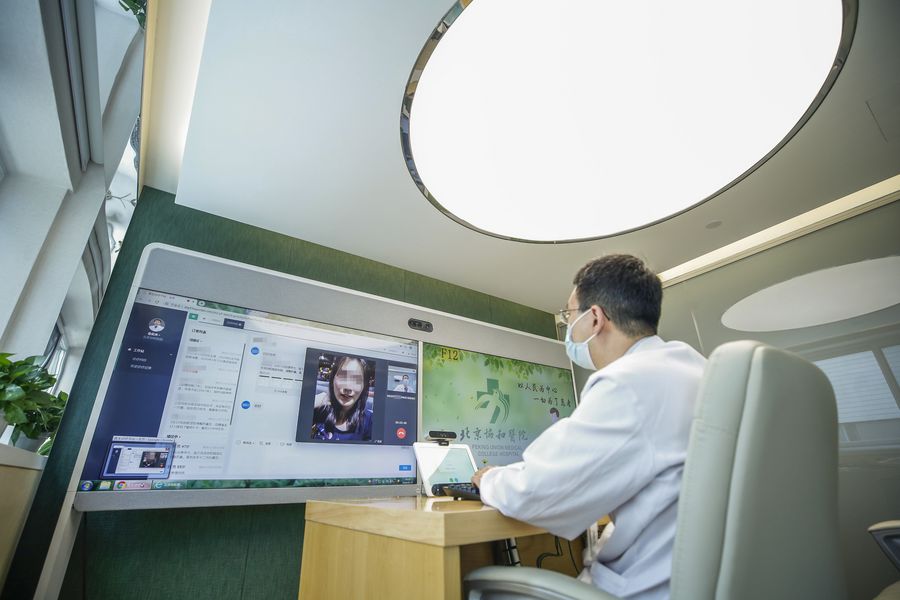 Endocrinologist Zhang Huabing provides diagnosis and treatment services for a patient via video link in Peking Union Medical College Hospital in Beijing, China, May 25, 2020. (Xinhua/Zhang Yuwei)
BEIJING, March 24 (Xinhua) -- China's Internet plus healthcare has flourished on policy incentives, with more than 1,100 internet hospitals in operation in the country, said an official with China's National Health Commission on Tuesday.
At the commission's press conference, Mao Qunan, the official, said that by now, at least 7,700 hospitals in China have provided access to online registration for patients. Besides, China's national health information platform has been established and currently it is on trail operation.
According to Mao, the commission has issued 30 measures to ensure that people have easy access to Internet plus healthcare, as well as various guidelines concerning smart hospitals, online consultation and internet hospitals.
Mao added that internet-based medical service has become an important part of healthcare service, bringing better medical experiences to Chinese patients.
China's internet healthcare has seen rapid growth in recent years. Data from iiMedia Research showed that the industry's market size has grown from 1.58 billion yuan (about 240 million U.S. dollars) in 2011 to 54.47 billion yuan in 2020, a compounded growth rate of 38 percent.
The research institute also noted that the potential of the industry will be further tapped with the development of advanced technologies such as big data, artificial intelligence (AI) and cloud computing.
(Edited by Li Shimeng with Xinhua Silk Road, lishimeng@xinhua.org)