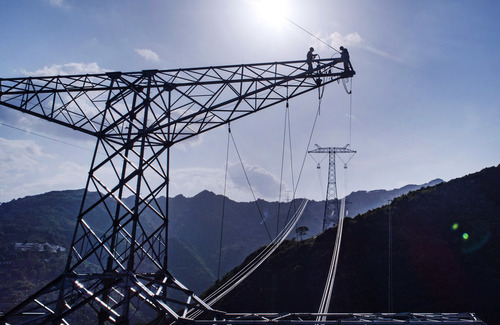 Workers install overhead power lines for an 800KV direct current electricity transmission projectlinking northwest China's Qinghai Province and central China's Henan Province, in Zhen'an County of northwest China's ShaanxiProvince, May 8, 2020. (Xinhua/Tao Ming)
BEIJING, March 23 (Xinhua) – The fixed-asset investment (FAI) in northwest China's Shaanxi Province soared 45 percent year on year during the January-February period this year, 10 percentage points higher than that of the country, data from the local authorities showed recently.
Among them, Shaanxi's private FAI surged 63 percent year on year in the first two months, which was 26.6 percentage points higher than the whole country, indicating fruitful results of Shaanxi's efforts in stabling investment and developing projects.
Since the year begins, Shaanxi Province has given priorities to constructing the major projects. During the first two months, a total of 783 major projects involving investment of 705.12 billion yuan were started construction in Shaanxi.
Meanwhile, the design project of a provincial high-speed railway project linking the capital city of Xi'an and Ankang has received preliminary approval.
As of the end of February, Shaanxi had approved 3,051 projects with a total investment of 547.98 billion yuan, up 124.2 percent year on year.
During the first two months, a total of 2,024 special bond projects in the province were approved by the National Development and Reform Commission (NDRC), China's top economic planner, involving a total of 322.2 billion yuan of bond funds, up 141.9 percent compared with 2020.
As of March 15, the NDRC has allocated 4.15 billion yuan of funds to Shaanxi Province from the central government's annual budget for 2021.
In terms of boost local financing, Shaanxi has obtained 2.8 billion yuan worth of corporate bonds approved by the NDRC, and registered borrowing of foreign debt valuing 450 million U.S. dollars.
(Edited by Jiang Feifan with Xinhua Silk Road, 346129473@qq.com)