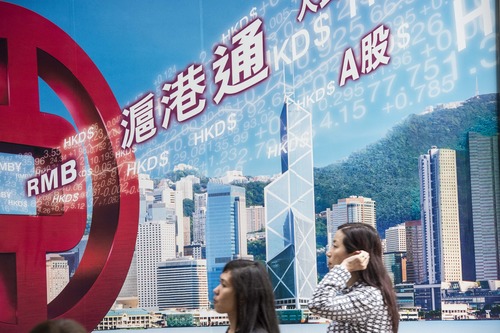 BEIJING, March 23 (Xinhua) -- Fund managers were optimistic about the mid- and long-term investment value of Hong Kong shares despite the previous drastic downturn, reported Xinhua-run Xinhua Finance on Tuesday.
Previously, some fund managers believed that the upturn of Hong Kong stock market before the Spring Festival holiday during February 11-17 was merely a flash in the pan and indicated the ending of this round of rally for Hong Kong shares.
Industry insiders remained, however, optimistic as they deemed the recent downward correction on Hong Kong stock market was a short-term fluctuation and could not change the long-term bullish running of Hong Kong shares.
Since late February, Hong Kong stock market suffered a bout of drastic downturn.
Chen Bozhen, a fund manager with Galaxy AMC attributed the round of retreatment to hammered market mood due to the alleged stamp duty adjustment in Hong Kong, worries on inflation situation this year, rapid upturn of U.S. bond yields and the short-term profit taking recently.
In the past week, net capital influx under the Chinese mainland and Hong Kong stock connect program began to reappear.
On Monday, 29 million Hong Kong dollars and 412 million Hong Kong dollars of capital flew into the Hong Kong stock market via the Shanghai-Hong Kong stock connect and Shenzhen-Hong Kong stock connect schemes.
Despite the notable market volatility, Chen held an optimistic view about the Hong Kong stock market this year as the recent downturn was to some extent a positive factor to remind investors of focusing on the business fundamental of Hong Kong-listed companies.
As Chen said, listed companies in Hong Kong mainly benefit from the continued economic recovery in the Chinese mainland currently and the industry-leading companies still have relatively optimistic business fundamental. Their annual financial results for 2020 and first quarter reports may present some clues of further business improvement.
The macro-economic factors that have caused previous corrections on A-share market and Hong Kong stock market are still weighing on China's stock market, noted Zhou Yinjie, the research director with CX Investment.
But as the upward space for U.S. bond yield narrows down further and the valuation bubbles of core assets are gradually digested, market fears have been eased, according to Zhou.
Even if considering the inflation worries and influences from valuation retreatment, industry leading Hong Kong-listed firms in sectors such as consumption and IT are still backed by pleasant business fundamental, said Chen.
In the second quarter, Zhou suggested that investors should be cautious as the valuation of the Hong Kong shares has not fallen to a low valuation band and the A-share market corrections and global capital reflux into the U.S. dollar-denominated assets may continue to erode liquidity for H-shares.
At the same time, Zhou emphasized that the downward correction on H-shares is expected to be limited. Generally, large caps on Hong Kong stock market are unlikely to pull back deeply due to their relatively reasonable valuation while for Hong Kong-listed sci-tech firms, their relatively high valuation means risks and requires further waiting for suitable investment chances. (Edited by Duan Jing with Xinhua Silk Road, duanjing@xinhua.org)