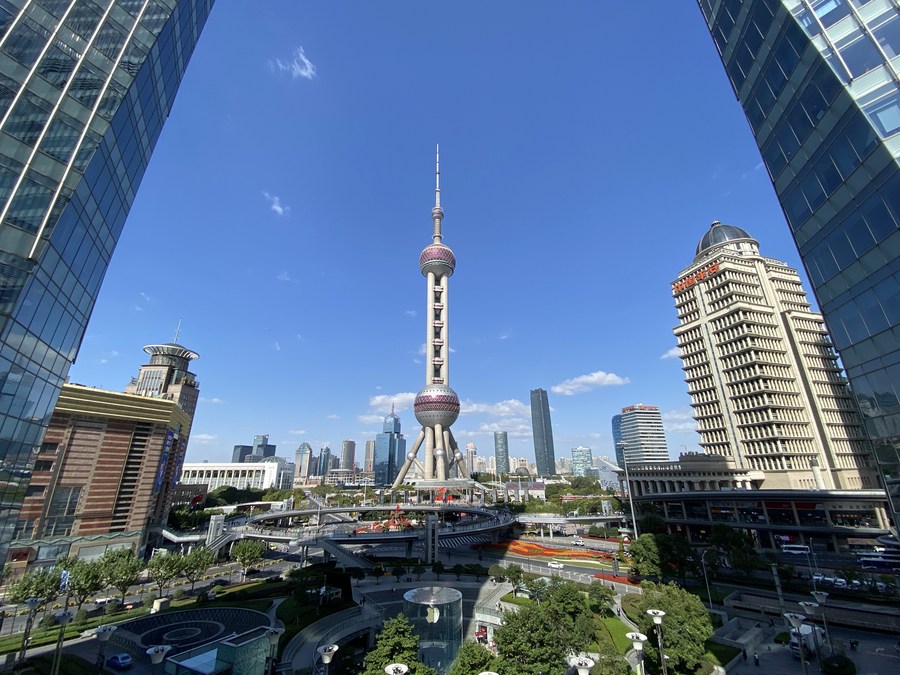 Photo taken on Nov. 3, 2020 shows the view of the Lujiazui area of Pudong, east China's Shanghai. (Xinhua/Ding Ting)
BEIJING, March 23 (Xinhua) -- China will promote deeper opening-up with broader scopes and fields, and further build a market-based, law-based and international business environment, reported Shanghai Securities News Tuesday quoting an official.
To realize unimpeded domestic circulation, high-level opening-up should be pursued to force deep reform, so as to further unblock supply channels, promote the matching of supply and demand, and form a large and unified domestic market boasting high efficiency and standard, fair competition and all-round opening-up, Vice Minister of Commerce Qian Keming stated at the annual meeting of the China Development Forum held on March 21 in Chinese capital city Beijing.
The Ministry of Commerce (MOC) will focus on lowering the threshold for foreign investment, developing open platforms such as pilot free trade zones, free trade ports and national economic development zones, expediting institutional opening of rules, regulations, management and standards, improving business environment and deepening opening-up and cooperation to push for wider and deeper opening-up, said Qian.
He noted that China had issued the 2020 national version, pilot free trade zone version and Hainan free trade port version negative lists for foreign investment access respectively including 33 items, 30 items and 27 items, and by the end of 2020, MOC, jointly with relevant authorities, had sorted out more than 400 regulations, rules and normative documents that were inconsistent with the foreign investment law.
In the next step, MOC will promote the implementation of these negative lists, eliminate restrictions beyond the lists, and meanwhile continue to shorten the lists, draw up a negative list for trade in services, and implement the new catalogue of industries that encourage foreign investment, Qian said.
China will also further create a market-based, law-based and international business environment, and promote the implementation of the Regional Comprehensive Economic Partnership (RCEP), the early formal signing of the China-EU investment agreement, and the negotiations on the China-Japan-Republic of Korea free trade agreement and other free trade agreements, noted he.
(Edited by Gu Shanshan with Xinhua Silk Road, gushanshan.1987@163.com)