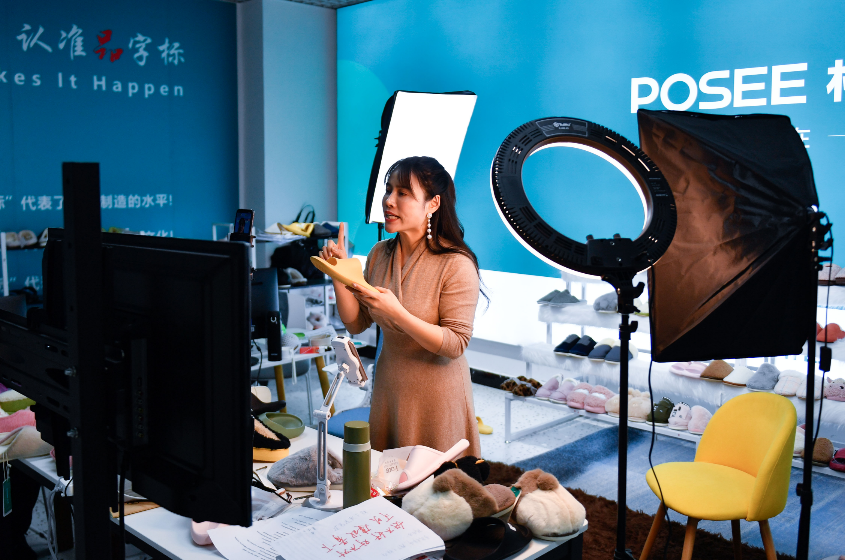 A host introduces products on live broadcasting in Yiwu, east China's Zhejiang Province, Feb. 8, 2021. (Xinhua/Huang Zongzhi)
BEIJING, March 18 (Xinhua) -- East China's Zhejiang Province, home to the country's leading e-commerce tycoons, on Wednesday released a three-year action plan for the digital commerce development from 2020 to 2022.
According to the plan unveiled by the Department of Commerce of Zhejiang Province, the province's online retail sales will reach 2.5 trillion yuan and the online retail sales will account for more than 80 percent of the total retail sales of consumer goods by 2022.
"By then, Zhejiang's digital commerce entities will continue to increase, and novel business models and new scenarios will emerge, fully helping to build itself into a province with the powerful digital life service," said an official of the department.
Meanwhile, Zhejiang will launch a program to cultivate a batch of leading national platforms with international influence and competitiveness, in such fields as service e-commerce, rural agricultural product e-commerce, and social (live) e-commerce.
It aims to cultivate one comprehensive digital life open platform with international standards and taking the lead at the domestic market, more than 20 national leading vertical platforms for the life service industry, and more than 100 local life service platforms by 2022. (Edited by Hu Pingchao with Xinhua Silk Road, hupingchao@xinhua.org)