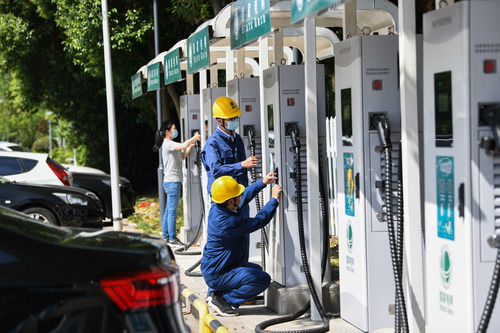 Staff members maintain charging piles for electric vehicles beside a hotel in Cixi of Ningbo City, east China's Zhejiang Province, May 19, 2020. (Xinhua/Xu Yu)
BEIJING, March 18 (Xinhua) -- As the first year starting the 14th Five-Year Plan period (2021-2025), batches of major projects are being launched this year.
Industry insiders believe that the government will make more investments in people's livelihood-related projects this year. In the future, there will be more room for social capital to participate in infrastructure construction, and infrastructure investment is expected to maintain a steady growth.
-- Major projects start in an intensive manner
According to the latest data released by China Construction Machinery Association (CCMA), in February 2021, 26 excavator manufacturers included in the statistics of the association sold a total of 28,300 excavators of all kinds, with a year-on-year increase of 205 percent. Among them, 24,600 ones were sold in domestic market, up 256 percent year on year.
As an indicator of investment, behind the hot sales of excavators, it is the rapid advancement of infrastructure projects.
On March 13, the second batch of 110 projects of Hainan Free Trade Port (FTP) in 2021 were kicked off, with a total investment of 28.9 billion yuan.
In Xining, capital of northwest China's Qinghai Province, 248 key projects for the first quarter of 2021 have started lately, with a total investment of 274.8 billion yuan.
In central China's Hubei Province, 215 major projects came into operation recently in the capital city of Wuhan, involving a total investment of 330.54 billion yuan.
Meanwhile, many regions in China have announced the construction list of major projects in 2021. So far, 16 regions including Beijing, Shanghai, Chongqing and Guangxi have released investment plans for major projects construction, with a total investment of about 30.34 trillion yuan.
In addition, 28 regions across the country have announced their fixed-asset investment plans for infrastructure construction in 2021, with a total investment of about 3.2 trillion yuan.
Infrastructure projects involving urban construction, rural revitalization, industrial optimization, ecological protection and connectivity of transportation facilities will become the focus of investment this year, said Liu Xiangdong, deputy head of Economic Research Department of China Center for International Economic Exchanges (CCIEE).
-- New infrastructure to be promoted
China's central government and local governments have launched supporting policies to boost the development of new infrastructure.
The Outline of the 14th Five-Year Plan for National Economic and Social Development and the Long-Range Objectives through the Year 2035 puts forward to accelerate the construction of new infrastructures, including information infrastructure, converged infrastructure and innovative infrastructure, with the aim to strengthen digital transformation, smart upgrading and integrated innovation support.
In January, China's State Council issued an action plan for building a high-standard market system, pledging to strengthening market infrastructure and increasing investment in new infrastructure.
Ning Jizhe, deputy head of the National Development and Reform Commission, said that China will issue new infrastructure construction plan for the 14th Five-Year Plan period, boosting the development of digital economy, expanding 5G applications and accelerating the construction of industrial Internet and data centers.
Meanwhile, new infrastructure projects and related plans have been actively deployed in many places.
For example, north China's Tianjin Municipality vows to achieve full coverage of 5G network and an area of more than 600 square kilometers covered by the Internet of Vehicles application scenarios, build over 30 Internet hospitals, and establish more than 10 major innovation platforms and technological infrastructure by 2023, according to its recently released three-year action plan (2021-2023).
Southeast China's Fujian Province also set a work plan for the development of digital economy pilot zone, proposing that by 2022, the province's digital economy will have an added value of more than 2.6 trillion yuan, with an average annual growth rate of more than 15 percent and taking up more than 50 percent of its regional GDP.
According to a recent official proposal, by 2025, China's new infrastructure will bring about 10 trillion yuan of direct investment and more than 20 trillion yuan of correlative investment in seven fields, including 5G network and intercity high-speed railway.
New infrastructure will foster new economy, new technology and new industries, and create new growth areas for China's economy, according to Ren Zeping, chief economist of Evergrande Group.
More efforts should be made in science and technological infrastructure including 5G, big data centers, artificial intelligence (AI), new energy vehicles (NEV) and charging piles, people's livelihood infrastructure such as education and healthcare, as well as institutional infrastructure in business environment, opening up of the service sector and multi-tiered capital market, Ren added.
-- Infrastructure investment to maintain steady growth
China plans to arrange 3.65 trillion yuan of special local government bonds to support infrastructure construction this year.
According to Li Xunlei, chief economist of Zhongtai Securities, with the gradual increase of the fund use efficiency, the actual fund scale of special bonds this year may be higher than that of the last year, and infrastructure investment is expected to grow at around 5 percent this year.
Government investment should focus on strengthening weak links, especially on the construction projects for improving people's livelihood and making economic development more sustainable, according to Jia Kang, president of the China Academy of New Supply-side Economics.
In addition to direct government investment, more innovative mechanisms should be used, policy financing, PPP and other methods should be used to promote the participation of social capital, Jia added.
It is noted that fiscal expenditure is still expected to grow steadily in 2021 to support infrastructure financing. In the meantime, there are still sufficient construction demands in urban agglomeration, new infrastructure, new urbanization, ecological and environmental protection and other fields, which will drive the steady growth of infrastructure investment.
(Edited by Jiang Feifan with Xinhua Silk Road, 346129473@qq.com)