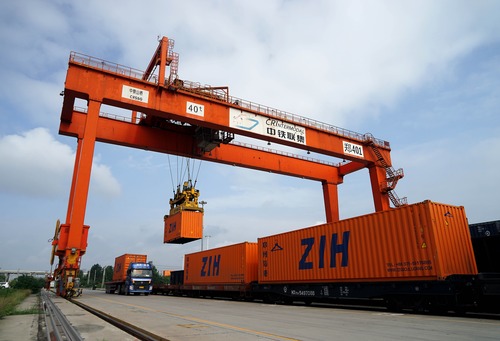 Containers are loaded onto a China-Europe freight train in Zhengzhou City, capital of central China's HenanProvince, Aug. 2, 2017. China-Europe freight trains made 5,611 trips in the first 11 months of 2018, surging 72 percent compared with the same period last year, according to a meeting held in southwest China's Sichuan Province. (Xinhua/Li An)
BEIJING, March 10 (Xinhua) –Central China's Henan Province saw its investment in Belt and Road countries hiked 111 percent on year to 104 million U.S. dollars in 2020 despite sharp decline in its total outbound direct invesmtent, data from the local authorities showed recently.
The value of overseas contracted engineering projects and labor service cooperation totaled 2.25 billion U.S. dollars in 2020, up 65.1 percent year on year.
During the year, 28 major foreign projects each with a contract value of more than 50 million U.S. dollars were signed, with total value of 3.44 billion U.S. dollars. For example, the Sinopec Zhongyuan Oilfield signed a contract worth 633 million U.S. dollars for the drilling project in Saudi Arabia.
(Edited by Jiang Feifan with Xinhua Silk Road, 346129473@qq.com)