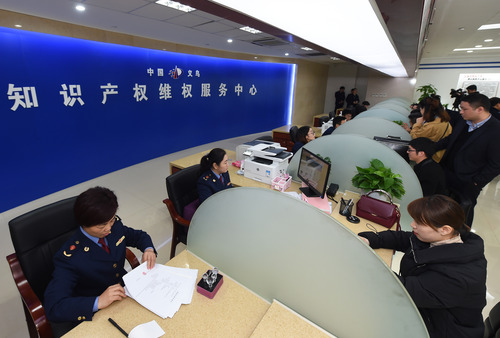 A staff member from an enterprise of Yiwu, east China's Zhejiang Province, is consulting business at the local fast IPR service center on November 21, 2018. (Xinhua/Gong Xianming)
BEIJING, March 8 (Xinhua) -- China will try to make research and formulate rules for the Intellectual Property Rights (IPR) protection in big data, artificial intelligence (AI) and genetic technology sectors, according to a guidelines released by the China National Intellectual Property Administration last Friday on promoting high-quality development of IPR protection.
The guidelines specify that by the end of 2021, the top-level design of IPR will be further strengthened with the legalization level further improved and service level steadily upgraded.
The guidelines propose to strengthen the research on the macro policies of IPR in a bid to form a batch of major research results that can provide better reference for decision-making.
Meanwhile, it is necessary to enhance the study of hot and difficult issues in the field of IPR at home and abroad, and improve the policy pre-research and reserve mechanism, said the guidelines.
Efforts would be made to revise the implementation rules of the Patent Law, strengthen the guidance for local intellectual property legislation, complete the adaptive revision of the Guidelines for Patent Examination, and accelerate the formulation and revision of the Trademark Agency Management Measures.
The guidelines also suggest that China should further optimize the intellectual property censorship system and enhance research on the intellectual property-related provisions of the Comprehensive and Progressive Agreement for Trans-Pacific Partnership (CPTPP). (Edited by Zhang Yuan with Xinhua Silk Road, zhangyuan11@xinhua.org)