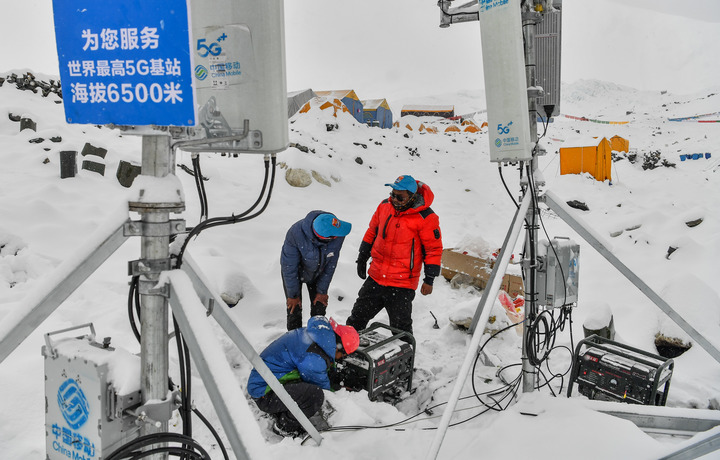 Staff members of China Mobile test the signals of the 5G base station built at an altitude of 6,500 meters at the advance camp of Mount Qomolangma in southwest China's Tibet Autonomous Region on May 21, 2020. (Xinhua/Jigme Dorje)
BEIJING, March 4 (Xinhua) -- China continues to maintain its position as one of the world's leading markets for 5G technology, according to a report released at the Mobile Work Congress (MWC) Shanghai 2021 recently.
The report, made by the Global System for Mobile Communication Alliance (GSMA), said that China's 5G technology is expected to cover more than 800 million users by 2025, while 5G-related investments will overcome economic impacts caused by the COVID-19 epidemic and promote economic recovery in the post epidemic era.
Liu Liehong, vice-minister of Industry and Information Technology, spoke at the MWC Shanghai 2021 that the booming development of the mobile communications technology, represented by 5G, has become an important driving force for economic growth and has revolutionized people's life.
Facing the global COVID-19 epidemic, the development of 5G network has strongly supported epidemic prevention and control, and resumption of work and production, Liu added.
The upgrading 5G technology is expected to contribute more than 600 billion U.S. dollars per year to the global economy by 2030, according to the GSMA.
(Edited by Jiang Feifan with Xinhua Silk Road, 346129473@qq.com)