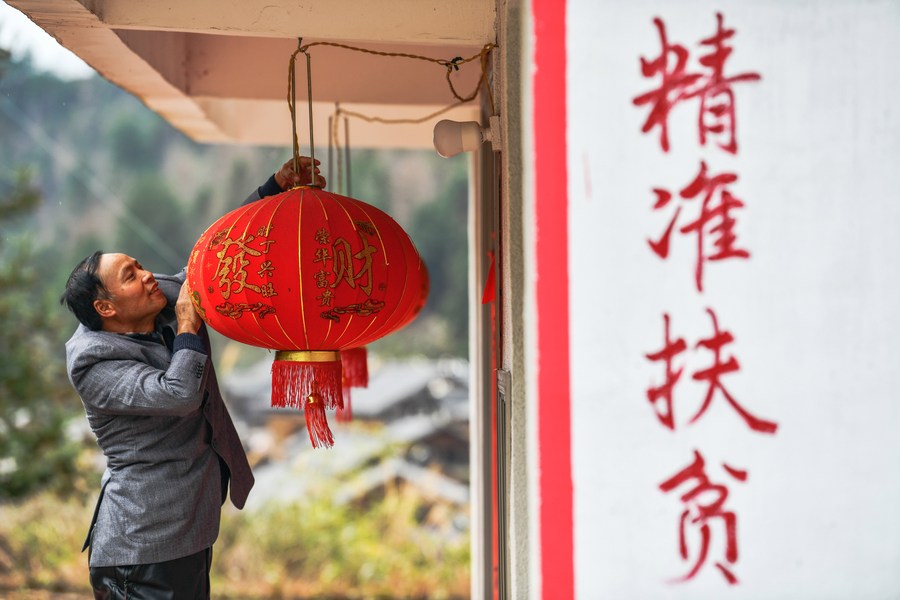 A villager who has shaken off poverty, arranges a red lantern in front of his new residence at Sangma Village, Yingshan Township in Dushan County of southwest China's Guizhou Province, Jan. 25, 2020. (Xinhua/Yang Wenbin)
BEIJING, March 4 (Xinhua) -- Despite the raging COVID-19 pandemic, China won the battle against poverty in the new era in 2020 as planned.
From a recipient country to a donor, and from a poverty-stricken country to a poverty reduction model, China has scored remarkable achievements in poverty relief. Foreign respondents expressed that China's success instills confidence and inspiration to global poverty reduction and inclusive growth.
-- Set a model for the world
China officially declared last December that all impoverished rural residents living under the current poverty line were lifted out of poverty, all poor counties were rid of poverty, absolute poverty and region-wide poverty were eradicated, and nearly 100 million people were lifted out of poverty.
Martin Raiser, the World Bank's country director for China, said in an interview that significant changes have taken place in the relations between the World Bank and China. China is growing into a donor of the World Bank in the field of financial resources and knowledge.
Raiser said, the World Bank will continue to study Chinese experience in poverty alleviation. If it is possible, the World Bank will promote such experience in other places in the world.
The World Food Programme (WFP) Timor-Leste's country director Liu Dageng said China's complete poverty elimination is the world's biggest, toughest and the greatest poverty-relief battle in human history, which sets a new model for other developing countries to implement the UN 2030 Agenda for Sustainable Development.
He also said China's experience in agriculture and rural development is widely recognized by the UN, and China's exploration of models, forms, pathways, and concepts in this aspect will be highly praised across the world.
Elias Jabbour, an economics professor of Rio de Janeiro State University expressed that Chinese amazing achievement in poverty reduction reflects China's development strategy.
Jabbour said many measures China adopted to narrow the gap between the rich and the poor offer a significant model for other developing countries, and China sets an example in many fields of economic development.
-- Interpretation of China's case
International observers expressed, the economic growth of one country does not necessarily lead to natural elimination of absolute poverty, but China eradicates extreme poverty under its fast economic development.
China balances economic and social development in urban and rural areas, and takes on a new look in the urban and rural areas through reform and opening up.
Surasit Thanadtang, director of the Thai-Chinese Strategic Research Center, National Research Council of Thailand, believed that the governance philology is the positive experience for other developing countries to narrow the gap between rich and poor, and the practice makes agricultural department feel more fulfilled.
Surasit said, poverty is a common challenge faced by all. Poverty elimination is a tough problem that should be solved in building a community with a shared future for mankind. China's success makes the world recognize the significance of targeted poverty alleviation, see the hope of getting rid of poverty, and instill courage and experience of poverty relief.
China's major victory of poverty eradication is closely related to China's focus on solving problems related to agriculture, rural areas, and farmers. In addition, China adopts a series of measures to ensure food security, which helps improve living conditions in rural areas, said an Argentine expert on China issues, adding that in 2020, China overcame the negative impact of the outbreak of the pandemic, and secured another grain harvest, demonstrating China's resolve of ensuring food security.
Poverty relief is a common challenge faced by the international community. Impacted by the pandemic, global poor population rose in 2020 for the first time in many years. This new situation poses grave challenges to the global cause of poverty reduction.
China's achievements in eradicating severe poverty serve as an example for other countries, said the Director-General of the International Labour Organization Guy Ryder, adding that China clearly takes eliminating poverty as the primary goal of the country's strategy, and more countries should learn from China. (Edited by Yang Yifan with Xinhua Silk Road, yangyifan@xinhua.org)