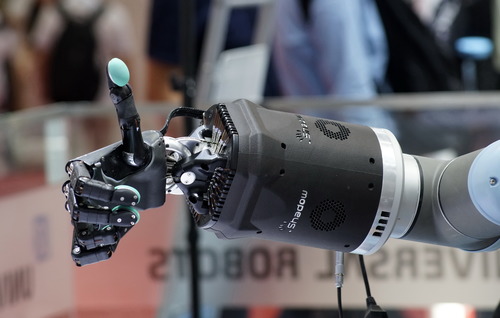 Photo taken on Aug. 21, 2019 shows an industrial robot exhibited at the World Robot Exhibition in Beijing, capital of China. (Xinhua/Li Xin)
BEIJING, March 4 (Xinhua) -- China's industrial robot output surged by 19.1 percent year on year in 2020 to 237,068 units, showed data released by the Ministry of Industry and Information Technology (MIIT) in February.
It marked the fastest growth in output in the past three years compared with a 4.6-percent growth in 2018 and a 6.1-percent decline in 2019.
China's industrial robotics sector has been on fast track thanks to efforts from market players, governments and investors. However, solutions are still needed to sort out challenges ahead, to head towards a promising future.
-- Progress
As indicated by the data above, China has made big strides in the development of industrial robots in 2020.
What's more, China has made notable progress in its industrial robot density, which refers to the number of operational industrial robots relative to the number of workers, an indicator of a country's progress in the dynamic automation race over time.
According to the latest report by the International Federation of Robotics (IFR), in 2019, China ranked the 15th place in the world with the robot density of 187 (187 robots per 10,000 employees), higher than the world average of 113, while the country's robot density in 2014 was only 36, even lower than the then world average.
The rapid development in China's industrial robotics sector can be attributed to the rising demands in the country, the policy stimulus and the capital empowerment.
As pointed by China's National Development and Reform Commission (NDRC),the country's top economic planner, China has been the largest industrial robot market globally for eight consecutive years since 2013, with 140,500 ones sold to China in 2019, accounting for 37.6 percent of the global total.
It's easy to understand that China, a manufacturing powerhouse, has huge demand for industrial robots to facilitate its advanced manufacturing. The cutting-edge technology is first applied in industries such as automobile, 3C (computer, communication, consumer electronics), home appliance, and metal processing, with more than half applied in the former two fields.
The policy stimulus also contributed to the industry's boom. The strategic plan Made in China 2025 came as a blueprint to upgrade the manufacturing capabilities of Chinese industries. As early as 2016, China's MIIT published a five-year plan (2016-2020) for intelligent manufacturing, vowing to realize digitalization in major fields of traditional manufacturing by 2020.
In the following years, pioneering provinces such as southeast China's Zhejiang province, rolled out guidelines to push forwards transformation among traditional manufacturing enterprises, and delivered direct supports including land, subsidies and favorable policies to them.
Many start-ups have been empowered by investments in the field. A report outlining the financing and investment in China's robotics industry showed that the industry witnessed a surge of 59 times in financing in 2016, and the disclosed investment in the industry amounted to 52.47 billion yuan (about 8.12 billion U.S. dollars) in 2017, a record high in the past decade.
In the first two months of this year, 29 financing activities took place in the robotics industry, totaling 4.9 billion yuan. Infore Robots, a rising star in the industry, has received three rounds of strategic financing since its establishment in March last year.
Renowned companies have also gathered steam thanks to the boom. According to MIIT, in 2020, China's industrial robot makers above designated size raked in 53.17 billion yuan in operating revenue. The market value of domestic listed industrial robot enterprise SIASUN Co.,Ltd. (300024.SZ) reached 18.6 billion yuan, while another giant Estun (002747.SZ) was valued at 26.1 billion yuan.
--Prospect
There is still more potential to be tapped in the industrial robots sector in the future, with more demands in China to be fully unleashed.
Highlights of the IFR report indicated that COVID-19 had a strong impact globally in2020, but also offered a chance for modernization and digitalization of production on the way to recovery.
In the long run, the benefits of increasing robot installations remain the same, which are rapid production and customized delivery at a competitive price. Automation enables manufacturers to keep production in developed economies, or reshore it, without sacrificing cost efficiency.
The range of industrial robots continues to expand, from traditional caged robots capable of handling all payloads quickly and precisely to new collaborative robots that work safely alongside humans, fully integrated into workbenches.
Domestically, Chinese market players are stepping up efforts in the process of R&D. SIASUN's significant technological improvement has made its industrial robots smarter at welding. Their performance in building the Hong Kong-Zhuhai-Macao Bridge has attracted attentions of many enterprises in the manufacturing sector.
Meanwhile, the company also suggested that more innovations are needed from China's robotics industry to make major breakthroughs in the R&D of core parts amid fierce global competition.
Insiders believe that the industrial robots will embrace a brighter future as more application scenarios will be emerged in the foreseeable future. Thanks to the new generation of collaborative robots, the maturity of the robot supply chain, and the further-advanced technologies, more areas, such as life science laboratories, medical care, and agriculture, will become new targets for the further expansion of the robotics industry.
(Edited by Li Shimeng with Xinhua Silk Road, lishimeng@xinhua.org)