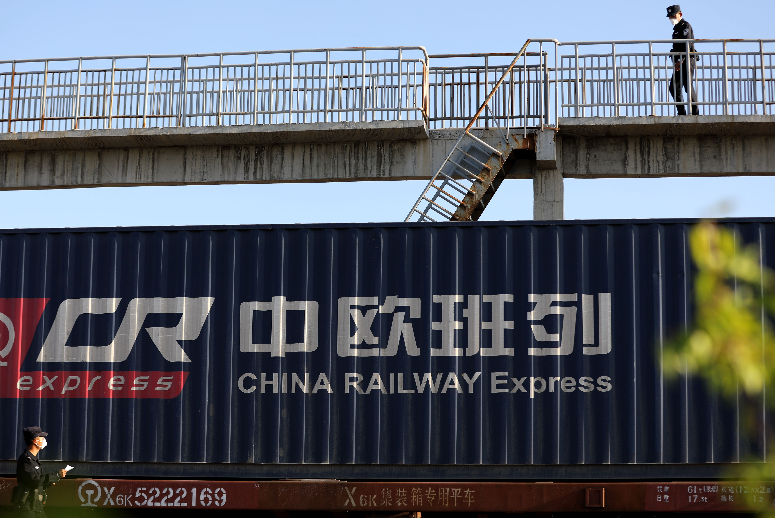 A policeman checks an outbound China-Europe freight train at Horgos Pass in northwest China's Xinjiang Uygur Autonomous Region, April 20, 2020. (Photo by Zhang Jia/Xinhua)
BEIJING, March 3 (Xinhua) -- Horgos, a border city which sits in northwest China's Xinjiang Uygur Autonomous Region, has seen more freight trains to and from Europe and Central Asia so far this year, compared to those in the same period of last year.
On Tuesday, a China-Europe freight train loaded with daily necessities, mechanical parts, and maternal and child products left the port of Horgos for Kaliningrad Oblast, Russia. It marked the 1,000th train passing through the port for outbound and inbound trips this year.
The port has seen more than 1,000 train trips so far this year, representing 40 days shorter than the figure recorded last year, and implying the robust trade between China and countries along the Belt and Road routes.
Sun Yongyu, an official at Horgos Railway Station, said that in order to ensure smooth operation of the China-Europe (Central Asia) freight trains, the local railway department has enhanced the port transportation capacity and strengthened coordination with the customs and border inspection authorities, to speed up the customs clearance.
After the capacity expansion, the port of Horgos can see about 15 trains to and from Europe and Central Asia each day, and 18 at the most. (Edited by Hu Pingchao with Xinhua Silk Road, hupingchao@xinhua.org)