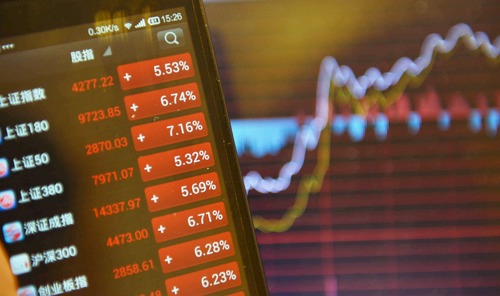 BEIJING, March 1 (Xinhua) -- Securities brokers in China still reaped hefty gains from the active trading on China's stock market in February, with their commission revenues estimated at about 10.062 billion yuan based on an average commission rate for the industry in 2019, reported Securities Daily Monday.
In February which had only 15 trading days due to the Spring Festival holiday in the country, the average daily turnover on Shanghai Stock Exchange (SSE) and Shenzhen Stock Exchange (SZSE) reached around 970 billion yuan.
Monthly trading volume of A-shares and B-shares were 1.013064 trillion shares and 1.284 billion shares, with corresponding turnover at 14.4057 trillion yuan and 5.862 billion yuan respectively. Turnover of all closed-end funds was 3.214 billion yuan in February.
Compared with January, securities brokers earned in accordance with the 0.0349 percent average commission rate publicized by Securities Association of China for 2019, 671 million commission fees on each trading day in February, down 11.83 percent from the comparable data in January.
Being highly homogeneous and due to the price competition in securities brokerage industry, commission rates of brokers have been dropping on and on, said Wang Yifeng, chief financial sector analyst with Everbright Securities.
However, a turning point for the declining commission rates of securities brokerage business may arrive in China in the future alongside the incoming long-term capital and increasingly high proportion of institutional investors among all A-share market investors, held Wang.
For securities brokers in China, they generally diversified their business to offset impacts from shrinking incomes from brokerage business.
In 2020, listed securities brokers which have announced their annual financial results excluding the Pacific Securities (601099.SH) all saw their net profit up year on year. (Edited by Duan Jing with Xinhua Silk Road, duaning@xinhua.org)