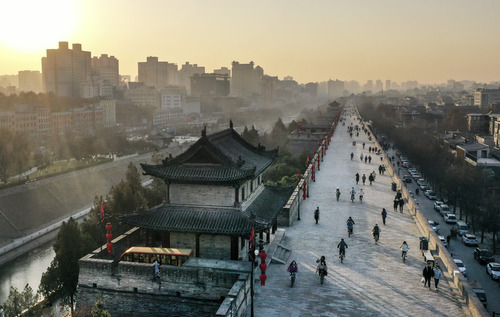 Aerial photo taken on Jan. 1, 2021 shows people visiting the ancient city wall at sunset in Xi'an, northwest China's ShaanxiProvince. (Xinhua/Tao Ming)
BEIJING, Feb. 23 (Xinhua) – Northwest China's Shaanxi Province maintained an average annual growth of 6.1 percent in industrial added value in the 13th Five-Year Plan period (2016-2020), local authorities revealed at a recent working conference.
During the period, industrial structure in Shaanxi was further optimized with fast development of high-tech manufacturing. The proportion of its automobile and electronics output value accounted for 7.8 percent and 7.5 percent in the province's total industrial output value, respectively.
In 2020, the added value of Shaanxi's automobile sector achieved a year-on-year growth of 7.4 percent, standing in the leading postion among provinces and regions in China. A number of major projects built by local leading auto makers such as Shaanxi Automobile Holding Group Co., Ltd, were completed and put into operation.
Meanwhile, pillar industries and enterprises in Shaanxi achieved high-quality development. In the year, the added value of the electronic industry surged by 37.4 percent, while its solar cell output reached 3.5 million kilowatts in the same year, an increase of 65.6 percent year on year.
Shaanxi's equipment manufacturing industry maintained a steady development in 2020 with an increase of 2.9 percent in the added value.
Meanwhile, Shaanxi's modern industrial chain has been further expanded with focuses on promoting the deep conversion as well as clean and efficient utilization of coal.
In 2020, Shaanxi Province also continued to inject vitality for promoting the new material industry. It has applied insurance compensation mechanism for the relevant enterprises for the first time, with a total insurance premium of 507.592 million yuan, valuing 1.692 billion yuan of insured amount.
(Edited by Jiang Feifan with Xinhua Silk Road, 346129473@qq.com)