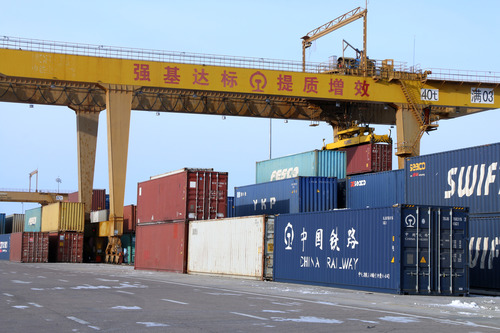 Photo taken on Jan. 5, 2021 shows a gantry crane lifting a container in Manzhouli, north China's Inner Mongolia Autonomous Region. (Photo by Guo Nailun/Xinhua)
BEIJING, Feb. 22 (Xinhua) -- China-Russia border cities, Manzhouli Port and Suifenhe, saw passby of 10,556 trips of China-Europe freight trains with loading of 952,601 TEUs of goods as of February 19 since the freight train service from Suzhou city in east China to Warsaw in Poland started operation in 2013, according to the local customs.
According to the railway department, the number of inbound trips via Manzhouli Port, China's largest land port, increased 44 times since its operation, while the outbound trips picked up 40 times during the same period.
Since the China-Europe freight train passed Suifenhe station for the first time in August, 2018, the station has witnessed passby of 410 trips of freight trains in total, with the operation frequency increased to 20 trips monthly from the initial six per month.
In 2020, a total of 3,500 cross-border freight trains went through the Manzhouli Port, up 35.1 percent year on year, marking growths for 11 consecutive months, according to the train operator.
During the same period, the number of cargo trains passed through Suifenhe station surged 77.9 percent to 217 trips, exceeding the total that operated in 2018 and 2019, and hitting a record high of 30 trips in a single month in November, 2020.
By far, the China-Europe freight train services have connected Manzhouli and Suifenhe with 28 cities in 52 countries. The imported and exported goods mainly include daily necessities, electrical products, industrial machinery, metals and agricultural products.
As a critical measure to enhance the Belt and Road (B&R) cooperation, the reliable and timely operation of the freight trains has contributed to the global fight against the COVID-19 epidemic.
(Edited by Jiang Feifan with Xinhua Silk Road, 346129473@qq.com)