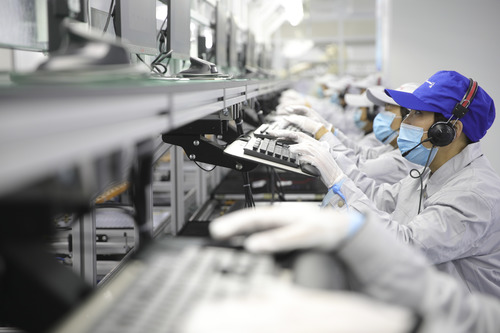 BEIJING, Feb. 22 (Xinhua) -- China's service industry may see limited room for further recovery in the near future, reported Xinhua Finance citing a research report of China International Capital Corporation Limited (CICC) Monday.
Amid this bout of economic recovery, service industry maintainted vibrant recovery with performances of some sub-sectors rather encouraging but likely to weaken in the following months while others still having room for further recovery.
By sub-sectors, real estate and finance turned out to be the most eye-catching ones in terms of the degree of recovery.
However, as the CICC report tells, it may be difficult for sub-sectors in service industry with eye-catching recovery to continue the high-speed growth momentum.
By far, recovery in accommodation and catering, renting and business service, and other services in the tertiary industry in China have not returned to the level before the COVID-19 epidemic.
The above-mentioned accommodation and catering, renting and business service, and other services sectors in the tertiary industry are not likely to see robust recovery before the COVID-19 pandemic faded, the CICC report highlights. (Edited by Duan Jing with Xinhua Silk Road, duanjing@xinhua.org)