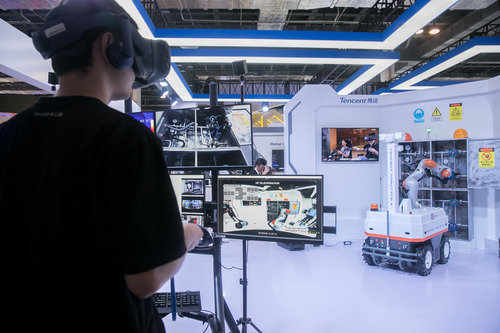 A visitor operates an inspection robot during the 2019 World Artificial Intelligence Conference (WAIC) in east China's Shanghai, Aug. 29, 2019. (Xinhua/Ding Ting)
BEIJING, Feb. 20 (Xinhua) -- China supports the establishment of five new national pilot zones for the innovation and application of artificial intelligence (AI) technology, according to the Ministry of Industry and Information Technology (MIIT) on Friday.
The five new pilot zones, located in Beijing, Tianjin (Binhai New Area), Hangzhou, Guangzhou and Chengdu, are the second batch of its kind launched by the MIIT after Shanghai (Pudong New Area), Shenzhen and Jinan-Qingdao. So far, the number of pilot zones for the innovation and application of AI in China has increased to 8.
According to the MIIT, the establishment of a national pilot zone for AI development in Beijing should comply with the overall deployment of building Beijing into an international science and technology innovation center. Efforts should be made to accelerate the research and development in core algorithms, basic software and hardware, speed up the construction of intelligent infrastructure and promote Beijing to become the world's leading AI innovation source. Key areas for application include smart manufacturing, intelligent connected vehicles, smart cities, and technology-based Winter Olympics.
The pilot zone in Tianjin (Binhai New Area) should focus on the coordinated development of the Beijing-Tianjin-Hebei region, face the practical needs of industrial intelligent transformation, government service upgrading and improvement of people's livelihood, and try to make great breakthroughs in smart manufacturing, smart ports and smart communities.
The establishment of a pilot zone in Hangzhou should make full use of the city's advantages in urban digital governance and advanced manufacturing, and further deepen the application of AI in urban management, smart manufacturing and smart finance.
The pilot zone in Guangzhou should closely follow the development requirements of the Guangdong-Hong Kong-Macao Greater Bay Area and focus on smart industries including smart key devices, smart software and smart equipment.
The setup of a pilot zone in Chengdu should rely on Chengdu's geographical advantage as an important hub of the Belt and Road Initiative, seize the opportunities of the construction of the Chengdu-Chongqing economic circle, and focus on the advantageous industries of medicine and finance to promote the iterative development of industry and technology.
During the 14th Five-Year Plan period (2021-2025), the MIIT will further strengthen coordination with relevant provinces and cities, promote the deep integration of AI and the real economy, and provide strong support for the high-quality development of the economy. (Edited by Zhang Yuan with Xinhua Silk Road, zhangyuan11@xinhua.org)