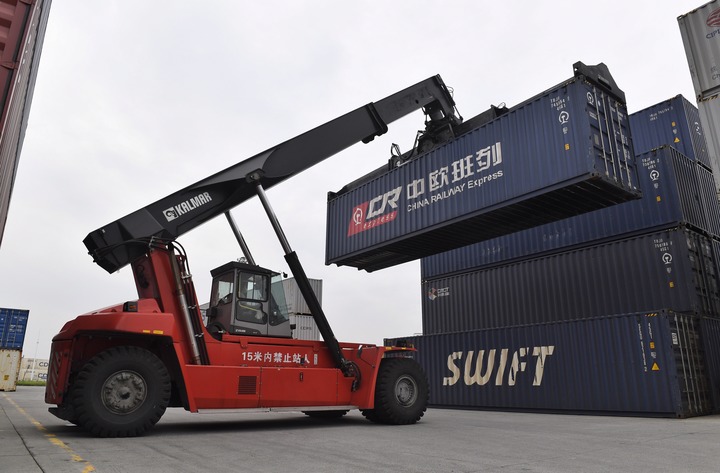 A crane hoists a container at Chengdu International Railway Port in Chengdu, capital of southwest China's Sichuan Province, July 17, 2020. (Xinhua/Liu Kun)
BEIJING, Feb. 20 (Xinhua) -- China-Europe freight trains in many provinces across China have maintained stable operation during the Spring Festival holiday, reported people.cn Thursday.
On February 15, the fourth day of the Spring Festival holiday, a freight train full of 50 TEUs of air conditions, freezers and daily necessities departed from Ganzhou City, east China's Jiangxi Province, heading for Uzbekistan, which marks the city's initial freight train since the Spring Festival in 2021.
It is noted that since the beginning of 2021, Ganzhou international land port, the train operator has ran a total of 33 China-Europe freight trains, including 28 outbound trains and 5 inbound trains.
Such scenes can be found in many places.
The international parcel freight train from Chongqing in northwest China was launched two days before Spring Festival, while the city also ran the freight trains to Russia and elsewhere during the holiday.
The city of Yiwu, a small commodity hub in east China's Zhejiang Province had dispatched a freight train carrying with 100 TEUs of goods to Minsk, Belarus on February 12, the day when Spring Festival fell.
The smooth operation of the China-Europe freight trains during the holiday has not only ensured stable flow of freight trade, but also provided guarantee for the international industrial chain and supply chain, according to Cui Fan, a professor with the University of International Business and Economics.
Before the Spring Festival, a total of 1,590 China-Europe freight trains were operated in 2021, with some 150,000 TEUs were transported by the trains, surging 93 percent and 103 percent year on year, respectively.
By far, the China-Europe freight train service has connected with 106 cities in 21 European countries, covering the most of central and eastern European countries.
(Edited by Jiang Feifan with Xinhua Silk Road, 346129473@qq.com)