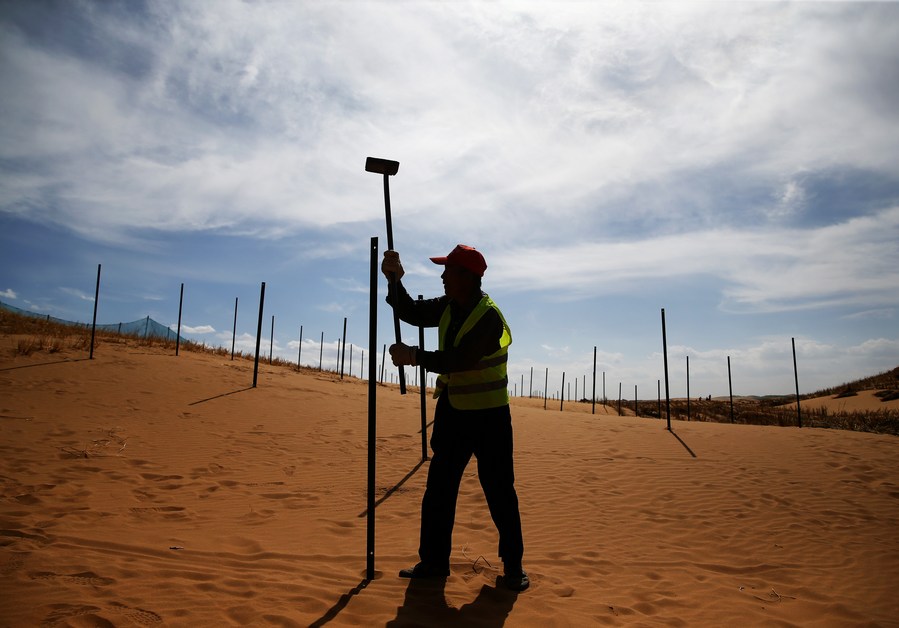 A desertification control worker makes sand barriers in the Tengger Desert along the construction site of the Qingtongxia-Zhongwei section of the Wuhai-Maqin highway in northwest China's Ningxia Hui Autonomous Region, Sept. 7, 2020. (Xinhua/Jia Haocheng)
BEIJING, Feb. 18 (Xinhua) -- China has made significant progress in combating desertification during the 13th Five-Year Plan period (2016-2020), with up to 10 million hectares of its desertified areas having been turned into green land, said an official with the country's National Forestry and Grassland Administration (NFGA).
According to the official, between 2016 and 2020, over 1.02 million hectares of windbreak trees have been planted in the Beijing-Tianjin-Hebei region, reducing 34,700 hectares of desertified land.
Meanwhile, large-scale afforestation pilot programs were carried out in five provincial regions along the Yellow River, including Inner Mongolia, Qinghai and Gansu.
During the same time, efforts have been made to curb the stony desertification. The area of stony desertification shrank to the current 10.07 million hectares, a decrease of 1.93 million hectares compared with the figure in 2011.
The official added that the afforestation efforts not only restored the ecosystem, but also increased the income of local villagers, who have sought a fortune in herbal medicine, economic forest products and animal feed.
(Edited by Li Shimeng with Xinhua Silk Road, lishimeng@xinhua.org)