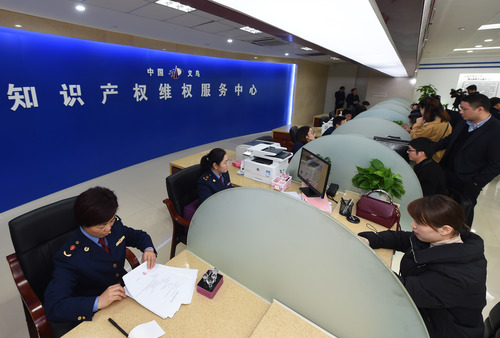 A staff member from an enterprise of Yiwu, east China's Zhejiang Province, is consulting business at the local fast IPR service center on November 21, 2018. (Xinhua/Gong Xianming)
BEIJING, Feb. 18 (Xinhua) -- China plans to establish 20 more intellectual property rights (IPR) protection centers and fast IPR service centers in 2021 in a bid to provide faster and more efficient IPR services, the country's IPR authorities announced recently.
In recent years, China has been commited to enhancing the construction of a coordinated fast IPR protection system. By far, over 60 IPR protection centers and fast IPR service centers have been set up across the country, providing market players with convenient, efficient and low-cost IPR protection channels.
The IPR protection centers are built to offer one-stop comprehensive services including fast IPR review, verification and protection to enterprises in a bid to address difficulties in obtaining evidence and reduce the duration and cost involved in IPR protection.
The fast IPR service centers aim to provide county-level industry clusters with faster pre-review processes, confirmation and rights protection on IPR-related issues. (Edited by Zhang Yuan with Xinhua Silk Road, zhangyuan11@xinhua.org)