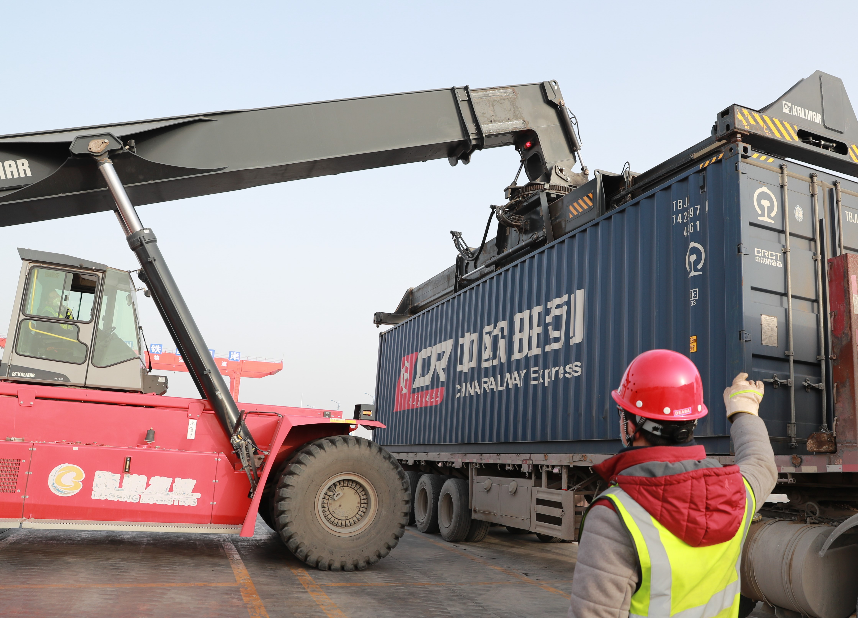 Workers unload imported goods from one of the China-Europe freight trains at a logistics park of Lanzhou New Area North Railway Station in Lanzhou, northwest China's Gansu Province, Feb. 20, 2020. (Xinhua/Du Zheyu)
BEIJING, Feb. 9 (Xinhua) -- Northwest China's Gansu Province has actively taken advantage of the land-sea freight transport to promote the grain trade with countries along the Belt and Road routes.
Recently, a freight train carrying a total of 30,000 tonnes of Ukrainian corn, worth 8.13 million U.S. dollars, arrived at the Lanzhou Railway Port after the goods were transported by ships to Qinzhou Port in South China's Guangxi Zhuang Autonomous Region.
More freight trains through the land-sea freight route will transport grain to Lanzhou, capital of Gansu Province, and then the grain will be distributed to downstream enterprises for feed processing, according to Yang Shipeng, an official of the Administrative Committee of International Land Port of Gansu (Lanzhou).
The land-sea freight route is part of the New International Land-Sea Trade Corridor, a trade and logistics passage jointly built by Singapore and provincial-level regions of west China. Chongqing is a operation center of the corridor.
The operation of the Lanzhou-Chongqing railway in September 2017 created a conveniet access for northwest China including Gansu province to the sea. There is no need to make a detour and go to the distant coastal ports in eastern China for sea transport. Instead, it can transport the imported or exported goods by train through Chongqing, Guizhou, and Guangxi, and then adopt the sea transport in Qinzhou Port to deliver the goods overseas.
Due to the COVID-19 epidemic, the capacity of traditional transportation channels has declined this year, said Yang, adding that with advantages such as high frequency, large transportation volume, strong stability and high timeliness, the land-sea freight trains have helped transport the high-quality Ukrainian agricultural products into the Chinese market, which has ensured the stability of the domestic food supply chain and met the diverse needs of the domestic consumer market. (Edited by Hu Pingchao with Xinhua Silk Road, hupingchao@xinhua.org)