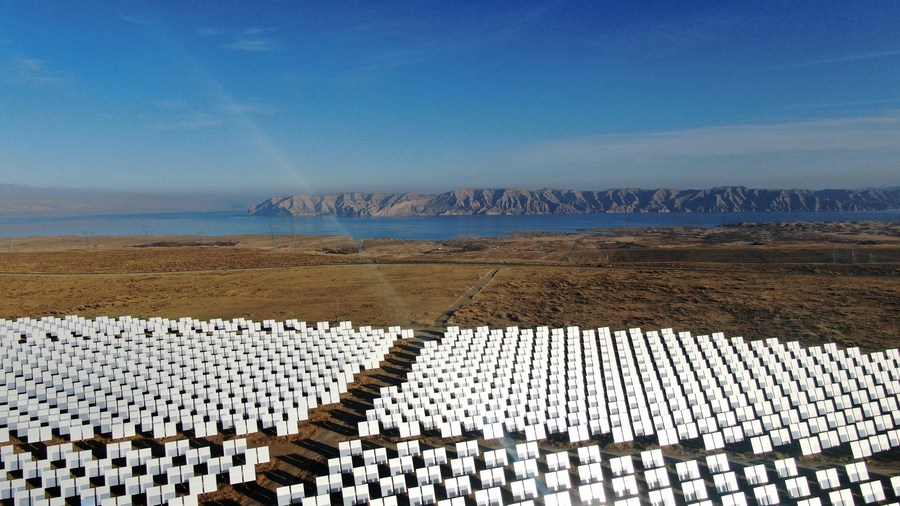 Aerial photo taken on Dec. 15, 2020 shows a solar thermal electricity project in Gonghe County, Tibetan Autonomous Prefecture of Hainan in northwest China's Qinghai Province. (Xinhua/Zhang Hongxiang)
BEIJING, Feb. 8 (Xinhua) -- Data from China Electricity Council (CEC) showed that the installed capacity of coal-fired plants in China reached 1.08 billion kilowatts by the end of 2020, accounting for 49.1 percent of the country's total energy installed capacity, reported the People's Daily last Saturday.
This marked the first time that the proportion of coal-fired power generation reduced to less than 50 percent in energy supply structure in China.
During the 13th Five Year Plan period (2016-2020), China's total energy installed capacity achieved an annual average growth of about 7.6 percent when coal-fired installed capacity grew 3.7 percent annually on average. The share of coal in total installed capacity fell down to 49.1 percent last year from 59 percent in 2015.
During the same period, installed capacity of non-fossil fuels increased at an annual average of 13.1 percent, with its proportion in total energy installed capacity up 10 percentage points.
In 2020, the newly-installed capacity of wind and solar power stood at 71.67 million kilowatts and 48.20 million kilowatts, respectively, a record high for the former.
According to a Deutsche Bank report, by 2030, China is expected to see its output of solar power increase tenfold, while that of wind power will be three or four times the level in 2020.
Green energy has shown great market potential, with the country promising to bring its total installed capacity of wind and solar power to over 1.2 billion kilowatts by 2030.
(Edited by Li Shimeng with Xinhua Silk Road, lishimeng@xinhua.org)