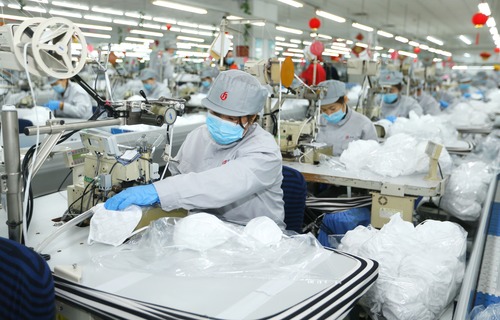 Workers make face masks in the workshop of a textile company in Jimo District of Qingdao, east China's Shandong Province, Feb. 12, 2020. (Xinhua/Liang Xiaopeng)
BEIJING, Feb. 5 (Xinhua) -- China's textile industry has overcome the difficulties caused by the COVID-19 epidemic and showed signs of recovery in 2020, according to the data released by the China National Textile and Apparel Council (CNTAC) on Wednesday.
The decline in key indicators has kept narrowing and exports have achieved unexpected growth driven by the demands for epidemic prevention materials, noted the CNTAC.
In the first quarter of 2020, the prosperity index of China's textile industry fell below 50, the threshold separating contraction from expansion. It rose above 50 in the second quarter and reached 61.3 in the fourth quarter, a relatively high level in recent years and indicating that business confidence has been improving steadily.
In addition, the production has picked up steadily. In 2020, the value-added output of enterprises above designated size decreased 2.6 percent year on year, which was 5 percentage points lower than that in 2019, but narrowed 2 percentage points and 23 percentage points from the first three quarters and the first two months of 2020 respectively.
In 2020, the industrial textile sector achieved a rapid growth in production driven by the demands for epidemic prevention materials, with the value-added industrial output up 54 percent year on year. The value-added output in the chemical fiber sector and home textile sector stepped onto a positive track and gained 2.2 percent and 1.1 percent year on year respectively.
According to the CNTAC, as the year 2021 is the first year of the country's 14th Five-Year Plan, the textile industry still faces complicated development situation. The foundation for continued recovery remains to be consolidated. (Edited by Zhang Yuan with Xinhua Silk Road, zhangyuan11@xinhua.org)