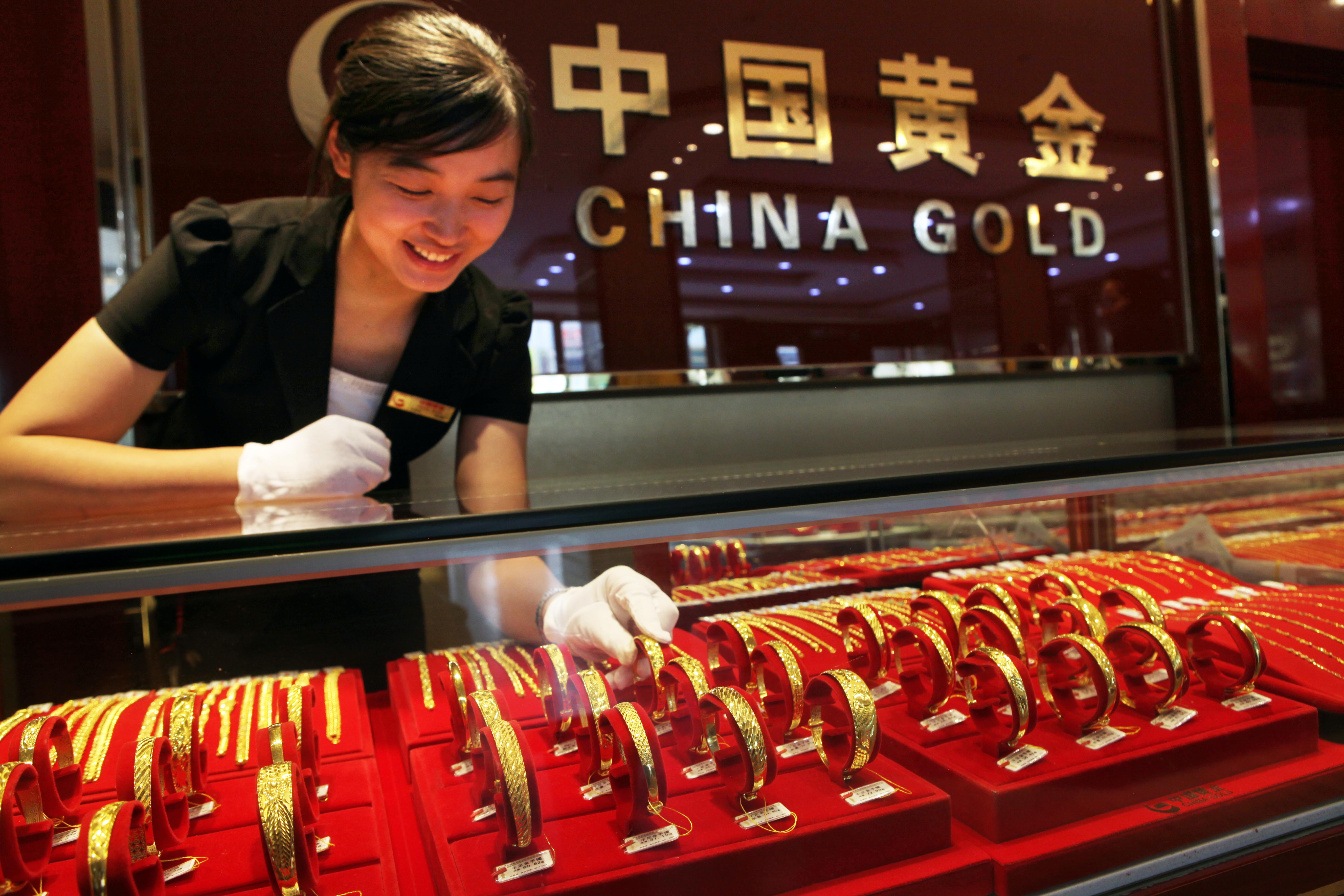 BEIJING, Feb. 5 (Xinhua) -- China National Gold Group Gold Jewellery Co., Ltd. (600916.SH), a state-controlled gold bar and jewelry manufacturer, got listed on the Shanghai Stock Exchange (SSE) on Friday, reported Securities Daily.
Upon the debut, the company, as a controlled subsidiary of the only central state-owned enterprise in China's gold industry - China National Gold Group, boasted total capital stocks of 1.68 billion shares after selling no more than 180 million shares priced at 4.99 yuan per share in the initial public offering (IPO).
It is not the first time for a jewelry producer to go public in China, but China National Gold Group Gold Jewellery Co., Ltd. represents a relatively scarce investment target as it completed its public listing on basis of its great strengths in upstream mining, said Jiang Shu, chief analyst with Beijing Jinyang Mining Investment Co., Ltd.
Pan Helin, executive dean of the digital economy academy of Zhongnan University of Economics and Law told the newspaper that IPO could help the company improve liquidity and contribute to its future development.
The Friday-debuted listing on the A-share market marked its conclusion of a key step in its mixed-ownership reform since 2017, which changed the leading gold jewelry maker in China into a joint stock firm after its establishment in 2010.
In the past years, China National Gold Group Gold Jewellery Co., Ltd. managed to improve on and on its market influence and corporate competitiveness and has grown as a comprehensive gold jewelry producer with broad market coverage in China.
From 2017 to 2019, the company achieved annual revenues of 28.247 billion yuan, 40.911 billion yuan and 38.274 billion yuan respectively and its net profit grew steadily from 301 million yuan, 369 million yuan to 450 million.
In the following three to five years, the company vowed to use the proceeds of its IPO to finance planned projects construction to further expand its business scale and optimize business structure.
Its prospectus showed that the company will use proceeds from its IPO to support the regional flagship store program, information platform upgrading project and R&D center program as well and supplement working capital.
Public data showed that the company has set up a nationwide franchise system dedicated to developing regional market and marketing products. A batch of model stores with standardized operation and management have been built in central business districts and important hubs of tier I and II Chinese cities.
By the end of 2019, the company had 2,931 stores, including 79 directly managed stores and 2,852 franchised stores in China.
Currently, China's gold jewelry market is shared by foreign-funded brands, brands from China's Hong Kong Special Administrative Region and the Chinese mainland, with the high-end sub-market dominated by internationally renowned brands such as Tiffany, Cartier and Bvlgari.
Alongside the development of the gold jewelry industry in China, sector competition has been more reflected on brand-centered comprehensive competiveness and enterprises with advantages in brand popularity can get higher product added value, according to China National Gold Group Gold Jewellery Co., Ltd.
In spite of these, there is still no super large brand that monopolizes the domestic market now as China's gold jewelry industry stays still in the primary phase of brand competition. (Edited by Duan Jing with Xinhua Silk Road, duanjing@xinhua.org)