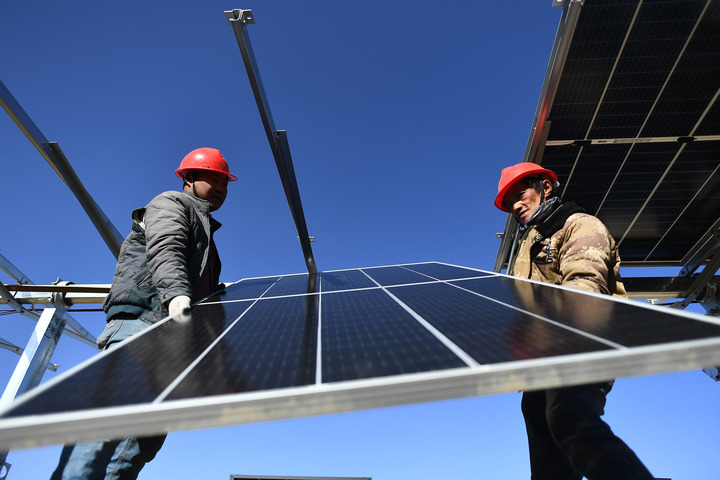 Workers install a solar power unit at the construction site of a 300-MW photovoltaicelectricity project of the China Datang Corporation Ltd. in Gonghe County, Tibetan Autonomous Prefecture of Hainan in northwest China's Qinghai Province, Dec. 15, 2020. (Xinhua/Zhang Hongxiang)
BEIJING, Feb. 5 (Xinhua) -- China is likely to add 55GW-65GW of photovoltaic (PV) installed capacity in 2021 and a total of 70GW-90GW capacity during the 14 Five-Year Plan Period (2021-2025), according to a Photovoltaic industry summit held on February 3.
The new PV installed capacity in China in 2021 will account for about one third of the world total, which is estimated at 150GW-170GW.
Chinese enterprises are strengthening the construction of PV supply chain, while the development of large PV project bases and volume of high-power products will take the mainstream of the PV industry, according to Wang Bohua, secretary-general of the China Photovoltaic Industry Association.
In 2020, China witnessed the expanded financing for the PV industry, including inverters and equipment, said Wang Bohua, adding that the fundes raied by all sectors of the PV industry amounted to 69.2 billion yuan in 2020, an increase of 279 percent over the same period last year.
Thanks to technology improvement, the investment cost of domestic PV power plants showed a downward trend in 2020, of which the price of PV system decreased by 12.3 percent year on year.
However affected by the COVID-19 epidemic, raw materials for PV production rose sharply in 2020 due to tight supply. For example, the price of silicon rose by 50 percent in 2019, and that of PV glass surged 100 percent in the same year.
Driven by the acceleration of China's energy transformation, the development of new energy will effectively improve the quality and economic benefits of power generation, said Wang Bohua.
Mainly invested by Chinese central enterprises, a number of electric power firms are planning huge comprehensive new energy bases integerating development of wind power, solar power, hydropower, thermal power and energy storage in the northeastern, northern and northwestern regions of China.
(Edited by Jiang Feifan with Xinhua Silk Road, 346129473@qq.com)