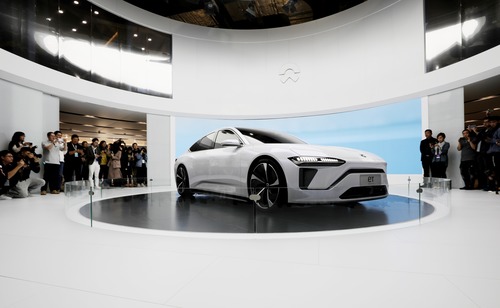 Visitors view a NioeT Preview electric sedan during the 18th Shanghai International Automobile Industry Exhibition in Shanghai, east China, April 16, 2019. (Xinhua/Fang Zhe)
BEIJING, Feb. 4 (Xinhua) -- The booming Chinese new energy vehicle (NEV) industry has strengthened the confidence of technology giants in investing in the vehicle industry, and the automobile industry has witnessed emerging of new value under the cooperation between the conventional and new energy carmakers.
--- Conventional carmakers join hands with technology giants
China's leading auto maker Geely Auto Group is again under the spotlight after it rolled out corporative package.
On January 11, 2021, China's tech giants Baidu announced it would jointly establish an intelligent vehicle company with Geely targeting at the passenger car market. Baidu will enter into the automobile industry as a complete vehicle manufacturer, and leverage its advantages in artificial intelligence (AI), intelligent driving, and in-vehicle map to empower the new company.
The two sides will strive to create the next-generation automobile based on Geely's Sustainable Experience Architecture (SEA), which is Geely's latest intelligent electric vehicle (EV) solution that can shorten half of Research and Design (R&D) time, and meet all vehicle model needs.
Based on the data released by Geely in September 2020, seven SEA-based brands with 16 new vehicle models have been developed to tap different market segments.
Geely also teamed up with Foxconn Technology Group (Foxconn) to establish a joint venture company providing original equipment manufacturer (OEM) production and comprehensive customized consulting services.
The services provided by the new joint venture company include but not limited to complete vehicle or auto parts, intelligent control system, automotive ecosystem, and whole industrial chain of EV.
According to the agreement, the new joint venture will upgrade the automotive industry model by introducing the Information and Communication Technology (ICT) division of labor to help automakers accelerate their transition to innovative and efficient manufacturing processes and business models.
Geely Auto Group also signed an agreement with technology giant Tencent on January 19, 2021 to carry out cooperation in various fields such as digital marketing, autonomous driving and low-carbon development.
In addition, the two sides will cooperate in virtual simulation and cloud platform of automatic driving to accelerate R&D and application verification of automatic driving products, and continuously improve laws, regulations and relevant standards.
Actually other conventional carmakers had cooperated deeply with technology enterprises before Geely.
In November 2020, Chang'an Auto announced it would create a high-end auto brand through cooperating with Huawei and Contemporary Amperex Technology, aiming to build a globally leading independent and controllable intelligent EV platform, develop a series of intelligent vehicles, and one super "HiCar" smart life and smart energy system.
Chinese leading automaker SAIC Motor also declared on November 26, 2020 that it would release the brand-new high-end auto brand Zhiji Motor through cooperation with e-commerce giant Alibaba.
At present, Zhiji Motor has released their first product in Shanghai, Las Vegas, and London, and the product will be available in the market by the end of 2021.
-- Coopetition takes the mainstream
Since the rise of new energy carmakers such as Tesla, NIO, Xpeng, and WM Motor, market observers have shown concerns about the prospect of conventional carmakers.
For instance, some industry insiders hold that Geely may be reduced to a foundry after its cooperation with Baidu.
However, Yang Xueliang, Vice President of Geely Holding Group, thinks it is another story. He said that in cooperating with Baidu, Geely provides not only production but also platform architecture, engineering ability, testing capability, supply chain, and quality control.
For Baidu, EV is actually not a new field. According to public data, from 2017 to today, Baidu has invested in WM Auto for several times, and it is also an investor of NIO.
However, the new carmakers encounter difficulties in the basic feature of automobiles as a transport tool despite their breakthroughs in technology and service.
Despite advanced technology, Tesla is still facing problems of low workmanship and low reliability. Tesla's Model 3 could not be once troubled by low output due to low manufacturability.
The cooperation with leading carmakers such as Geely and Chang'an will help new energy carmakers further lower manufacturing threshold.
Besides production, the asset-heavy auto industry also needs to establish the distributor system and supplier system, and technology companies do not excel in manufacturing that requires time and cost for breakthroughs and trials.
With the accelerating commercialization of automatic driving, in-vehicle app market will surpass the consumption-type app market, second only to mobile phone app market.
The cooperation with technology companies can improve conventional carmakers' software capability to adapt to the intelligence era, and further save R&D and production cost.
Insiders hold that the trend of automobile industry is irreversible. In the upcoming three to five years, the competition of automobile products will focus on electrified and Internet-based direction. The competition among carmakers will shift from product ability to comprehensive marketing and service capability, and vehicle companies will transform into mobile travel companies.
The conventional carmakers and new energy carmakers cooperate closer and more diversified from the earliest OEM service to technical exchange, and capital integration.
-- Leverage technological capabilities of technology companies
Technology companies will leverage their advantages in new energy vehicle industry.
It is noted that the automobile company jointly established by Baidu and Geely will focus on design, R&D, manufacturing, and marketing of intelligent vehicles, and the automatic driving capability of Baidu's Apollo will be used to reshape the pattern of intelligent automobile products.
Baidu is the earliest enterprise entering into the intelligent connection market among the three Internet giants of Baidu, Alibaba and Tencent.
The company has spent eight years in R&D and commercialization of automatic driving technology as well as capacity expansion of open platforms and supporting experience of Internet of Vehicles.
A distinctive feature in the new round of cooperation is that large enterprises are entering into the market through strong alliance.
Fang Yinliang, global partner of Roland Berger said new energy carmakers represented by NIO, Xpeng and WM Motor are derived from enterprises related to Internet, but the alliance of large enterprises has become a popular mode.
Fang added that conventional automobile enterprises have a limited development space, and the new growth point can be found only by the complementarity of software and hardware. On the other hand, when technology enterprises enter into the auto industry, the data sharing will be accelerated, which will provide new approaches for industrial development.
Xiang Jinsong, CTO of Shenzhen One IOT World, holds that the presence of Internet and technology enterprises will accelerate development of automobile industry and shift to an proactive attitudes of complete vehicle factories toward intelligent driving.
Xiang added that, as outsiders and latecomers, Internet and technology enterprises can actively adopt new technologies and will reform the century-old automobile industry.
Meanwhile, these enterprises will leverage the cutting-edge technologies and high innovative capability in software, algorithm and electronic products to facilitate the fast development and commercialization of intelligent driving industry.
Insiders said that the automobile industry has gradually changed into ecological competition, which is the result of industrial policies, efficient supply, and cutting-edge technologies.
Enterprises have position vehicles as hardware, industrial products, consumer goods, and high-tech products or even luxuries, which led to an increasing expanded role of the automobile industry.
(Edited by Jiang Feifan with Xinhua Silk Road, 346129473@qq.com)