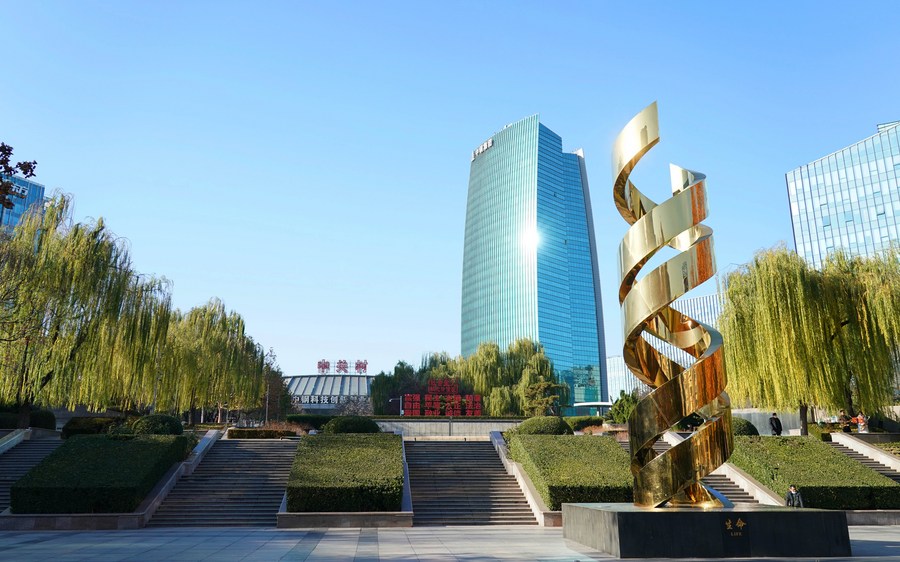 Photo taken on Nov. 23, 2020 shows a view of Zhongguancun Square in Haidian District, Beijing, capital of China. (Xinhua/Ren Chao)
BEIJING, Feb. 3 (Xinhua) -- Science and technology (sci-tech) innovation, domestic demand expansion and reform and opening-up will be the three main forces driving steady and sustained development of the Chinese economy, reported Shanghai Securities News Wednesday.
-- Sci-tech innovation to serve as strong development engine
China has attached great importance on sci-tech innovation.
It put "strengthening the country's strategic scientific and technological strength" on top of its priority list for 2021 and mentioned "science and technology" 14 times and "innovation" 16 times at its central economic work conference.
A basket of favorable polices are also on the way to boost sci-tech innovation, involving tax and fee reduction, business environment optimization, encouragement on researchers, the building of innovation consortia by enterprises, etc.
The Ministry of Science and Technology (MOST) is working on an action outline for making China a science and technology power which targets at cutting-edge fields like artificial intelligence, quantum information, and space science and technology.
The Ministry of Industry and Information Technology (MIIT) will organize the implementation of industrial infrastructure re-engineering projects, and carry out engineering research on key basic technologies and products.
The National Development and Reform Commission (NDRC) will promote the building of independent, secure and controllable industrial chains and supply chains.
-- Demand expansion to stimulate the endogenous power of the economy
In order to build the new development pattern, China will continue to expand domestic demand.
Specific measures will include improving the structure of income distribution and expanding the middle-income group, abolishing some administrative restrictions on consumption and purchasing and appropriately increasing public consumption, increasing investment in new infrastructure as well as equipment renewal and technological upgrading of manufacturing, etc.
Many policies have been or will be introduced to revitalize domestic consumption.
NDRC revealed that targeted measures would be launched this year focusing on new-type consumption, regional consumption center construction, rural consumption, consumption supply and other respects.
The Ministry of Commerce put forward to develop a number of cities into international consumption centers with global influence, and promote pedestrian street renovation pilot in a steady and orderly manner.
The General Office of the Communist Party of China Central Committee and the General Office of the State Council recently issued an action plan on building a high-standard market system, proposing to encourage key cities to set up a batch of departure tax refund shops and add offshore duty-free cities and stores in Hainan.
Multiple departments have also made detailed layouts in expanding effective investment in new infrastructure construction, reconstruction of old urban communities and major transport projects like Sichuan-Tibet railway and the new land-sea corridor in western China.
-- Reform and opening-up to help fully unleash development vitality
China will continue to promote all-round and high-standard opening-up in 2021, the first year of the 14th Five-Year Plan period.
It will formulate and introduce a negative list for cross-border trade in services in pilot free trade zones, ease market access for service trade and investment, and implement the new-version negative list for foreign investment and the new-version catalog of industries that encourage foreign investment.
The country will also empower each pilot free trade zone with greater reform autonomy, foster the reform in crucial fields and links, speed up reform in fiscal, tax and financial reform, and promote the high-quality reform of the capital market.
(Edited by Gu Shanshan with Xinhua Silk Road, gushanshan.1987@163.com)