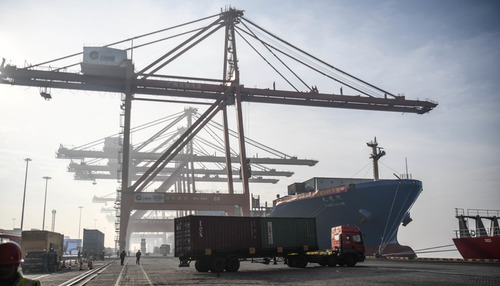 Photo taken on Dec. 28, 2020 shows a view of the Qinzhou Port in south China's Guangxi Zhuang Autonomous Region. (Xinhua/Zhang Ailin)
BEIJING, Jan. 29 (Xinhua) -- South China's Guangxi Zhuang Autonomous Region recently introduced 20 detailed measures aimed at promoting high-quality development of domestic capital market, injecting impetus for the regional economic development, reported Guangxi Daily Thursday.
The measures mainly focus on corporate listing, corporate debt financing, and futures institutions services.
Guangxi will accelerate the reform of the shareholding system of enterprises, support the development of key listed enterprises, and encourage high-quality listed companies outside Guangxi to settle business operation here.
Guangxi vows that during the period of 2021-2025, it will declare more than five of the initial public offering (IPO) applications per year, and strive to settle more than 80 listed companies at home and abroad and to have more than 80 new third board listed companies by the end of 2025.
Efforts will be made to improve the development quality of listed companies, for example, Guangxi pledges to improve the standard operation level of listed companies, and to formulate accurate implementation action plans for promoting the operation.
While enhancing the refinancing ability of listed companies, Guangxi will also encourages listed firms to expand the scale of refinancing by issuing additional shares and preferred shares.
The measures also call on enterprises to make full use of debts financing instruments to expand the direct financing. It is noted that Guangxi is expected to achieve an average annual direct financing of no less than 300 billion yuan by 2025.
(Edited by Jiang Feifan with Xinhua Silk Road, 346129473@qq.com)