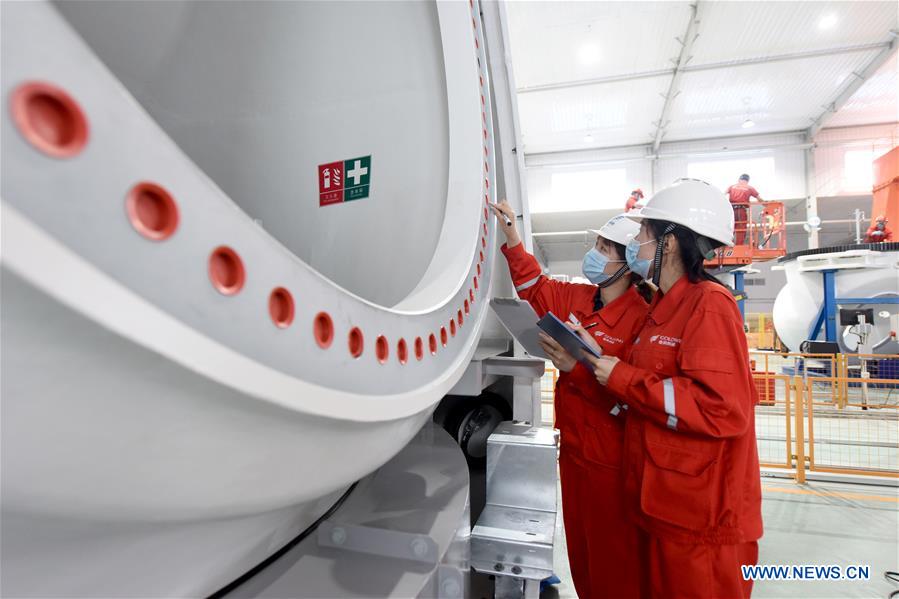 Employees work at the workshop of a technology company at Xingtai Economic Development Zone in Xingtai City, north China's Hebei Province, May 14, 2020. (Xinhua/Zhu Xudong)
BEIJING, Jan. 28 (Xinhua) -- The latest data showed that the national economic development zones have become important bases for China in stabilizing foreign trade and investment, reported Economic Information Daily Thursday quoting an official.
China's 218 national economic cooperation zones present sound development momentum featuring optimized structure, improved efficiency and quality and enhanced role in driving opening-up, said Zong Changqing, head of the foreign investment administration department with the Ministry of Commerce (MOC), at a press conference held Wednesday.
To be specific, in 2019, the 218 zones achieved a total import and export value of 6.4 trillion yuan, up 4 percent year on year which is 0.6 percentage point higher than the national average level, and accounting for 20.2 percent of the national total.
The actual use of foreign capital and the reinvestment by foreign-invested firms totaled 54.76 billion U.S. dollars, rising by 3.7 percent year on year and taking up 22 percent of the foreign capital used nationwide, playing a key role in keeping foreign trade and investment stable.
The national economic development zones have also played an obvious demonstrative and driving role.
In 2019, the 218 zones generated a gross domestic product (GDP) that accounted for 14.1 percent of that of the prefecture-level cities where they were located, 0.8 percentage point higher from 2018.
The energy and water consumption per unit of industrial added value of the 218 zones in 2019 were both below the national average, with the emission of major pollutants dropping significantly from 2018.
As of the end of 2019, the 218 zones had participated in the joint construction of 76 parks, with some of them providing assistance to Xinjiang Uygur Autonomous Region, Tibet Autonomous Region and 134 border cooperation zones.
Zong Changqing also released the 2020 assessment results of these zones at the press conference, including the lists of the top 30 in comprehensive development, the top ten in attracting and using foreign capital and the top ten in import and export value.
The results show that the Suzhou Industrial Park, the Guangzhou Economic-Technological Development Area, the Tianjin Economic-Technological Development Area, the Beijing Economic-Technological Development Area and the Kunshan Economic-Technological Development Area perform noticeably well.
(Edited by Gu Shanshan with Xinhua Silk Road, gushanshan.1987@163.com)