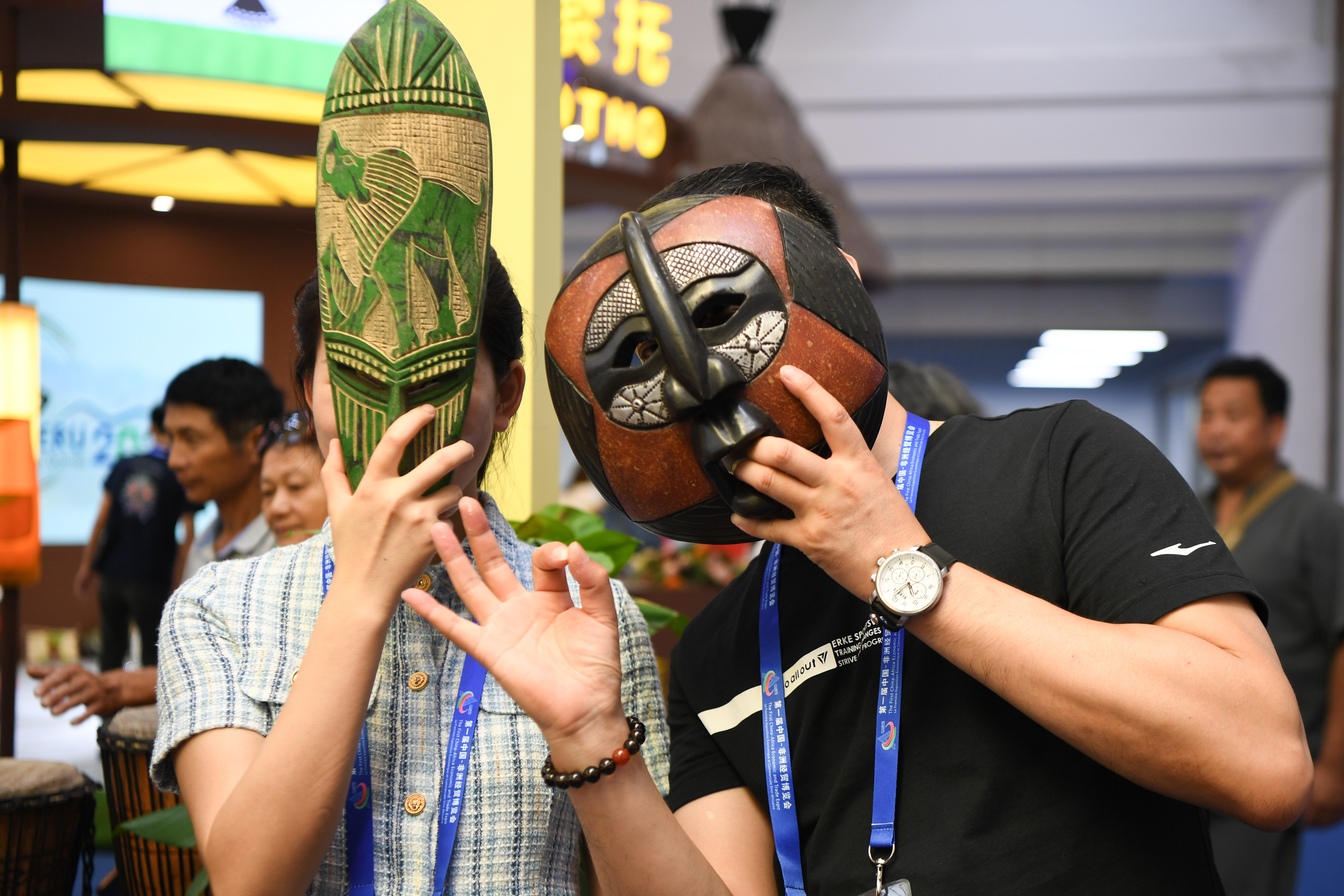 Photo: Visitors try masks at the booth of the Republic of Ghana during the China-Africa Economic and Trade Expo in Changsha, central China's Hunan Province, June 28, 2019.
BEIJING, Jan. 26 (Xinhua) -- Central China's Hunan Province reported record-high foreign trade with African countries in 2020, local customs said Monday.
The province's total trade with African countries rose 18.3 percent year on year to 28.84 billion yuan (about 4.46 billion U.S. dollars) last year.
Of the total, Hunan's exports to African countries hit 17.43 billion yuan, up 7.4 percent year on year, while its imports from these countries stood at 11.41 billion yuan, up 40.3 percent.
Among all African countries, South Africa was the largest trading partner of Hunan province last year. Total trade between the two sides in 2020 increased 39 percent to 12.92 billion yuan, accounting for 44.8 percent of the province's total foreign trade with the continent.
During the same period, another four African countries saw their trade with Hunan exceed 1 billion yuan, namely Nigeria, Egypt, Mauritania and the Democratic Republic of Congo (DRC), with trade valued at 2.57 billion yuan, 2.36 billion yuan, 1.28 billion yuan and 1.01 billion yuan, respectively.
The major commodities imported by the province from African countries last year were raw materials such as mineral products, and mechanical and electrical products were among the top exports to the continent.
According to Changsha Customs, trading under the the African Continental Free Trade Area (AfCFTA) began on Jan. 1.
Data from the World Bank showed that the trade bloc, which has so far garnered 54 signatories, covers a total population of over 1.2 billion with a collective gross domestic product of 3.4 trillion U.S. dollars.
(Edited by Li Shimeng with Xinhua Silk Road, lishimeng@xinhua.org)