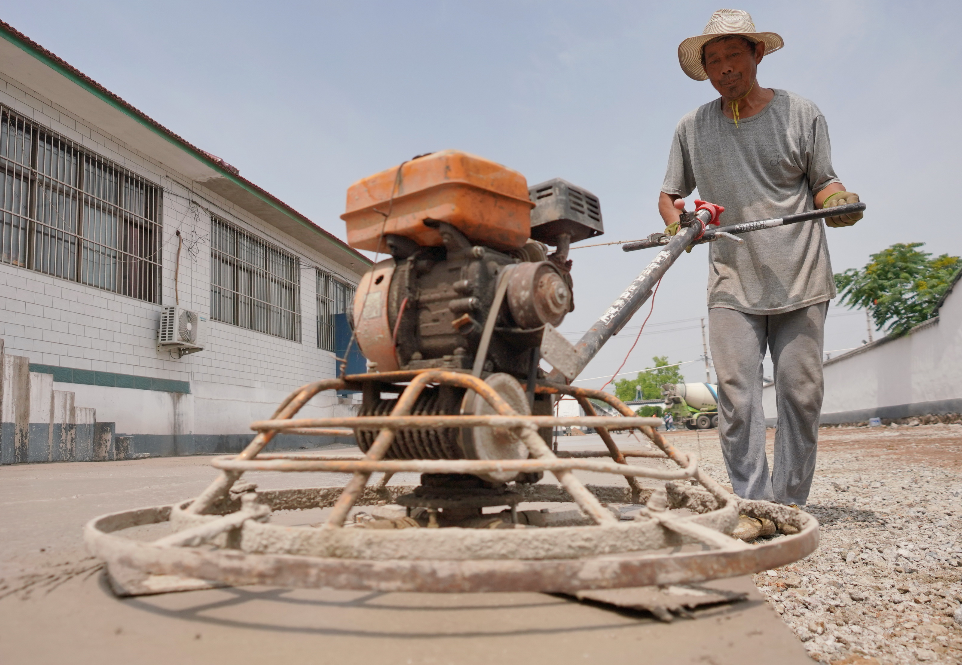 A worker builds a cement road in Dayugou Village of Malanzhuang Town in Qian'an City, north China's Hebei Province, June 11, 2020. Qian'an City has spared no efforts to improve the local rural environment. (Xinhua/Mu Yu)
BEIJING, Jan. 25 (Xinhua) -- Cement prices in China are expected to maintain stable in 2021 thanks to the improving supply-demand relations, the Shanghai Securities News reported on Monday.
The Cement Big Data Research Institute predicts that the domestic cement industry is projected to have a total profit of more than 165 billion yuan (about 24.72 billion U.S. dollars) in 2020, hitting a historically high level.
The latest data from the National Bureau of Statistics (NBS) show that the country's cement output in 2020 stood at 2.377 billion tonnes, a year-on-year increase of 1.6 percent.
Industry insiders noted that under the circumstances of the stricter environmental protection, acceleration in the elimination of backward production capacity, and emission reduction via technical methods, the domestic cement industry is in the process of de-capacity. In the short term, the cement market is still in the traditional off-season period, but it is still expected to rebound in 2021 due to improved supply side and demands from infrastructure projects.
According to the predictions of many institutions, it has become a consensus that the domestic cement supply side will improve.
In this regard, industry insiders pointed out that the de-capacity process has reduced the cement output to a certain extent, and also forced the cement producers to accelerate technological transformation and upgrading, which, in turn, helped them reduce inventories, stabilize product prices, and ultimately maintain higher profits.
Capital Securities expected that there will be greater room for improvement on the cement supply side in 2021, and cement demand and prices will maintain stable.
From the perspective of the demand side, the infrastructure investment that drives the demand for cement is growing rapidly, and the construction of transportation infrastructure projects in regions have intensively started.
Data showed that in December 2020, construction of a total of 3,203 projects started across the country, with a total investment of 2.69 trillion yuan.
Many local authorities have set the goal for the infrastructure construction. For example, central China's Hubei Province aims to ensure more than 100 billion yuan of investment in the road and waterway projects in 2021.
East China's Jiangxi Province plans to invest a total of 600 billion yuan in the transportation projects during the 14th Five-Year Plan period from 2021 to 2025. (Edited by Hu Pingchao with Xinhua Silk Road, hupingchao@xinhua.org)