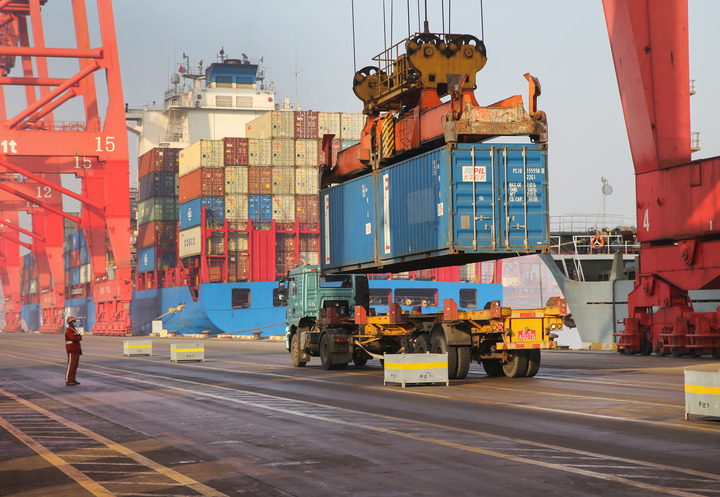 Cargos are unloaded from a container ship at the container terminal of the Lianyungang Port in Lianyungang City, east China's JiangsuProvince, Jan. 14, 2021. (Photo by Wang Jianmin/Xinhua)
BEIJING, Jan. 22 (Xinhua) – East China's Jiangsu Province registered a total of 1.08 trillion yuan of foreign trade with Belt and Road (B&R) related countries in 2020, up 1.9 percent from a year ago, reported yidaiyilu.gov.cn Thursday.
Jiangsu's trade with its major trading partners including the European Union (EU), the Association of Southeast Asian Nations (ASEAN) and Japan accounted for 62.9 percent of its total foreign trade value in 2020.
In 2020, the province saw its foreign trade surged 2.6 percent year on year to 4.45 trillion yuan, accounting for 13.8 percent of China's total in the same period, official data from local customs showed.
Among the total, Jiangsu's export value stood at 2.74 trillion yuan in 2020, up 0.9 percent year on year, while its import value totaled 1.70 trillion yuan, with an year on year increase of 5.5 percent.
Private enterprises in Jiangsu also performed strongly in 2020, reaching 1.56 trillion yuan in imports and exports, an increase of 14.7 percent year on year, accounting for 35.2 percent of the province's total foreign trade.
(Edited by Jiang Feifan with Xinhua Silk Road, 346129473@qq.com)