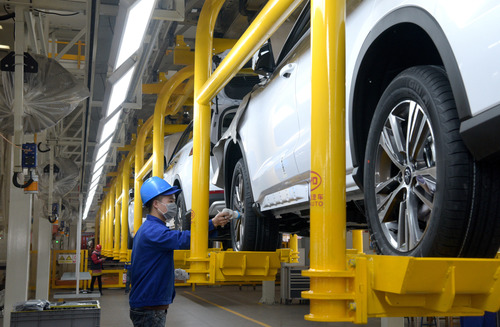 Workers work on the assembly line at a factory of vehicle manufacturer BYD Autoin Xi'an, northwest China's Shaanxi Province, Feb. 25, 2020. The Xi'an plant of BYD Auto has resumed production amid epidemic prevention and control efforts. (Xinhua/Liu Xiao)
BEIJING, Jan. 21 (Xinhua) – Automobile sales and output in southwest China's Shaanxi Province surged 14.78 percent and 11.84 percent year on year, respectively in 2020, reported Shaanxi Daily Wednesday.
The output value of province's automobile industry in 2020 amounted to 200 million yuan, with an year-on-year increase of 8.2 percent, official data showed.
In 2020, major auto enterprises in the province showed a good momentum in production and operation. For example, Shaanxi Automobile Group Co., Ltd produced 243,800 units of automobiles in 2020, up 26.8 percent year on year, while its sales surged 25.77 percent to 235,100 units in the period.
Meanwhile, the Xi'an base of Chinese new energy vehicle (NEV) maker giant BYD produced and sold 251,000 vehicles respectively in 2020, up 3.32 percent from the same period in the previous year.
Shaanxi's main auto parts manufacturers also performed well in 2020. Among them, Shaanxi Fast Auto Drive Group Go., Ltd saw sales of more than 1.18 million transmissions, with a cumulative operating income of 24.9 billion yuan, an increase of 24 percent over the same period in 2019.
Shaanxi Hande Axle Co., Ltd. sold more than 1.1 million axles of all kinds in 2020, an year on year increase of 41 percent, ranking first in the national axle industry for five consecutive years.
(Edited by Jiang Feifan with Xinhua Silk Road, 346129473@qq.com)