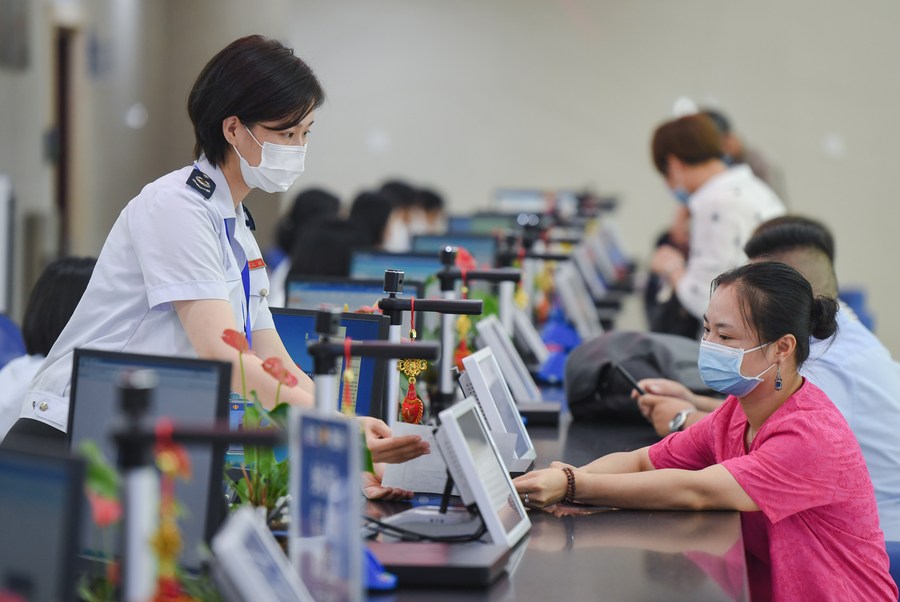 Photo shows a staff member receives a credit repair application filed by an enterprise representative at a tax bureau service center in Taijiang District, Fuzhou, southeast China's Fujian Province, July 21, 2020. (Xinhua/Song Weiwei)
BEIJING, Jan. 21 (Xinhua) -- China's tax authority on Wednesday released ten sets of tax data which prove that the country's economic recovery amid COVID-19 pandemic is better than expected, reported Economic Information Daily Thursday.
Data issued by the State Taxation Administration showed that the tax revenue organized by tax authorities nationwide with export tax rebate deducted topped 13.678 trillion yuan in 2020, fulfilling the target set in the fiscal budget though falling by 2.6 percent year on year.
Judging from the trends throughout 2020, the tax revenue growth had picked up for nine consecutive months since "bottoming out" in March, reflecting China's positive economic recovery.
Data also showed that from January to November 2020, a total of 2.3673 trillion yuan was added to tax and fee cuts, and the figure may exceed 2.5 trillion yuan in the whole year of 2020, which indicates that the whole-year target of reducing the burden on enterprises set in the government work report for 2020 could be successfully achieved.
During 2020, the new tax and fee cuts in the manufacturing sector and related links may take up about 35 percent of the total, while that in the private economy may account for about 70 percent of the total.
The value-added tax (VAT) invoice data showed that sales revenue of enterprises nationwide increased by 6 percent year on year in 2020, with the growth rate in the four quarters respectively standing at -17.6 percent, 9 percent, 12.4 percent and 15.7 percent, and 29 of the 31 province-level regions in China had realized positive growth in sales revenue.
In 2020, China's high-tech industry also posted rapid growth, with sales revenue rising by 14.7 percent year on year, 8.7 percentage points higher than the average level of enterprises across the country.
High-tech services represented by information services and e-commerce had achieved year-on-year increase of 20-odd percent for nine consecutive months since April, with annual growth rate registering 23.6 percent, indicating the continuous and vigorous growth of the new economy.
(Edited by Gu Shanshan with Xinhua Silk Road, gushanshan.1987@163.com)