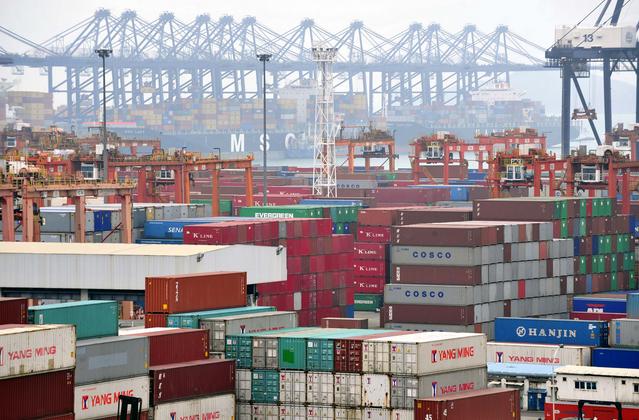 BEIJING, Jan. 21 (Xinhua) -- The foreign trade value of south China's Guangdong Province decreased 0.9 percent year on year to 7.08 trillion yuan in 2020, according to data released by the Guangdong Sub-Administration of the General Administration of Customs on Wednesday.
The province had maintained growth in exports for four consecutive years. Data showed that Guangdong's exports last year went up 0.2 percent to a record high of 4.35 trillion yuan, while its imports declined 2.6 percent to 2.73 trillion yuan, resulting in a trade surplus of 1.62 trillion yuan.
In terms of trade mode, the import and export value of Guangdong's general trade in 2020 was 3.63 trillion yuan, showing an increase of 3.5 percent and accounting for 51.2 percent of the province's total foreign trade value. During the year, the import and export value of bonded logistics in Guangdong increased by 6.4 percent, and the value of exporter purchase at designated marketplaces in the province grew by 23 percent.
Last year, the foreign trade by private enterprises in Guangdong totaled 3.9 trillion yuan, up 5.5 percent and accounting for 55.1 percent of the province's total.
The Association of Southeast Asian Nations (ASEAN) became Guangdong's largest trading partner last year, with bilateral trade increasing by 6.5 percent to 1.09 trillion yuan.
In 2020, Guangdong's imports and exports with countries and regions participating in the Belt and Road Initiative (BRI) rose by 2.3 percent to 1.76 trillion yuan, and its trade with the United States, the European Union and China's Taiwan increased by 4 percent, 1 percent and 7.9 percent, respectively. (Edited by Su Dan with Xinhua Silk Road, sudan@xinhua.org)