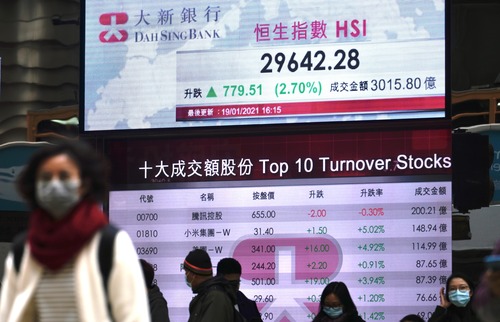 BEIJING, Jan. 20 (Xinhua) -- The Stock Connect program, a mutual market access scheme linking the Chinese mainland and Hong Kong equity markets, witnessed a historical high 26.592 billion Hong Kong dollars of net inflow to the Hong Kong market on Tuesday, reported Xinhua Finance Wednesday.
The data brought the net southbound inflow under the Stock Connect program in the first dozen of trading days this year to 185.293 billion Hong Kong dollars and to 1.92 trillion Hong Kong dollars since debut of the scheme, showed data with Wind, a financial data provider in China.
By Tuesday close, Hong Kong stock market performed well, with the market benchmark Hang Seng Index (HSI) up 2.7 percent from Monday. Property, medical care, finance, and consumption sectors strengthened.
As a matter of fact, southbound influx or fund inflow into the Hong Kong equity market, remained robust, driving the Hong Kong stocks up on and on which aroused attention of investors in the Chinese mainland. Public data showed that the HSI edged up by 8.85 percent by Tuesday this year.
Many institutions are currently upbeat about the investment opportunities of Hong Kong stock market.
According to Everbright Securities, the Hong Kong stock market now faces optimistic market fundamental, liquidity and mood, and as around 70 percent of the entire profits of Hong Kong-listed companies comes from red-chip companies. Its market profit growth is closely related to the economy in Chinese mainland.
By individual stocks, there are still relatively large valuation gaps between the A-shares and H-shares for most industries. After the listing rules reform in Hong Kong, some quality companies engaged in science and technology-driven, medicine and consumption sectors went to list on Hong Kong stock market and thus significantly improved their asset quality.
By far, many fund products and qualified domestic institutional investor (QDII) funds investing in Hong Kong equity market are actively subscribed by investors, and more than a half of the new funds issued in January this year already put Hong Kong stocks into their basket of selectable investment products.
Over the long run, the net southbound fund influx is likely to continue.
According to China International Capital Corporation Limited (CICC), structural southbound fund inflow is expected to remain hefty and in the following three to five years, there may be 200 to 400 billion Hong Kong dollars of southbound fund inflow into the Hong Kong equity market annually.
CICC made the forecasts on diversification of Chinese family assets, the increases of mutual funds issuance and expanding new economy-related firms in Hong Kong stock market. (Edited by Duan Jing with Xinhua Silk Road, duanjing@xinhua.org)