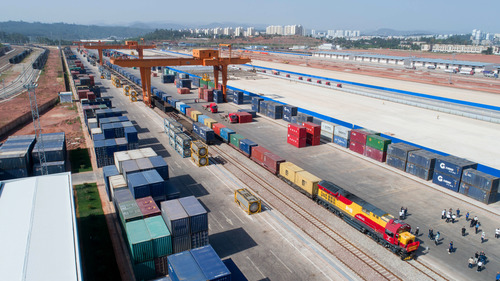 A freight train loaded with fertilizer and coffee beans left Kunming of southwest China's Yunnanfor Qinzhou port in neighboring Guangxi Zhuang Autonomous Region, May 18, 2018. (Xinhua/Hu Chao)
BEIJING, Jan. 19 (Xinhua) -- The freight train service between China and Asian countries registered 840 trips in 2020, with a total of 323,500 tonnes of goods transported, injecting vitality into the Belt and Road (B&R) construction, reported Yunnan Daily on Sunday.
The first cargo train between China and Asia started operation on December 18, 2017, carrying chemical fertilizer goods from southwest China's Yunan Province to Vietnam. It provided raw materials and market guarantee for the production and operation of enterprises of the two countries.
Over the past three years since the Central Asian train service was launched, China and Vietnam have operated a total of 2752 freight trains, carrying a total of 1.0763 million tonnes of goods.
The freight train route between Yunnan and Vietnam is China's first cross-border railway and the most convenient land-sea passage for South and Southeast Asian countries.
It is noted that the freight train service has achieved stable operation through applying fixed loading location, operation route, arrival and departure time and transport costs, and has realized smooth convection of international logistics transportation between China, Vietnam, Cambodia, Laos and other Asian countries.
Since the second half of 2020, the demand for steel raw materials such as refined iron ore and crude iron ore from Vietnam and Laos kept increasing. A total of 13,500 tonnes of imported mineral products have been transported to domestic steel enterprises by the China-Asia freight train since the beginning of this year.
Since 2020, China has joined hands with Vietnamese railway operators to increase the capacity of single trains while reducing the frequency of train operation, thus ensuring the stability of the overall traffic volume.
At the same time, both Chinese and Vietnamese railway operators have made joint efforts in epidemic prevention and control to ensure the stable operation of the train services between the two countries.
(Edited by Jiang Feifan with Xinhua Silk Road, 346129473@qq.com)