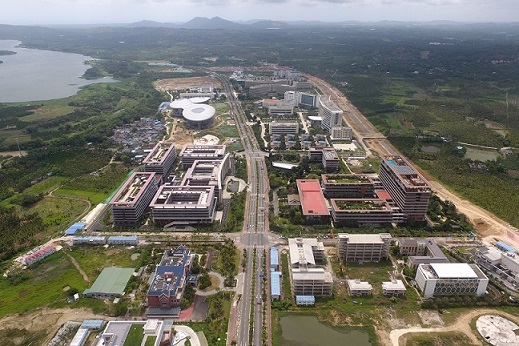 BEIJING, Jan. 19 (Xinhua) -- Key industrial parks in China's southernmost Hainan Province has served as major platforms for the construction of free trade port, according to a press release held on Sunday in the provincial capital city Haikou.
In the press release, officials with the Hainan Provincial Development and Reform Commission, Yangpu Economic Development Zone, Haikou Jiangdong New Area Administration, Boao Lecheng International Medical Tourism Pilot Zone, Sanya Yazhou Bay Science and Technology City and key industrial parks introduced the achievements during the 13th Five-Year Plan period (2016-2020).
During 2016-2020, Hainan took a series of measures including conducting scientific planning, enhancing industrial park construction, optimizing hardware conditions, vigorously simplifying administration and delegating power, and innovating mechanisms, in a bid to make industrial parks play an important role in implementing favorable policies in the free trade port, attracting projects and promoting industrial agglomeration.
During the period, through enhancing investment promotion, accelerating the gathering of various market entities, improving business environment and facilitating city-industry integration. key industrial parks have played a more prominent role in the economic development of Hainan.
In the past five years, key industrial parks in Hainan have scaled up infrastructure investment in education, health care, housing and entertainment. A total of 14.13 billion yuan and 7.43 billion yuan have been invested in infrastructure in 2019 and the first half of 2020 respectively, up 44.7 percent and 36.7 percent year on year.
In 2020, Hainan Province allocated 3.62 billion yuan worth of key industrial park project funds and 2.56 billion yuan of special funds to support the construction of 46 projects in industrial parks.
According to preliminary statistics, 11 major industrial parks in Hainan saw more than 20,000 newly registered enterprises in 2020.
In the 14th Five-Year Plan period (2021-2025), Hainan Province will introduce a dynamic adjustment mechanism for industrial parks and carry out a high-quality development action plan, so as to build major functional platforms for industries in the free trade port with high standards. (Edited by Zhang Yuan with Xinhua Silk Road, zhangyuan11@xinhua.org)