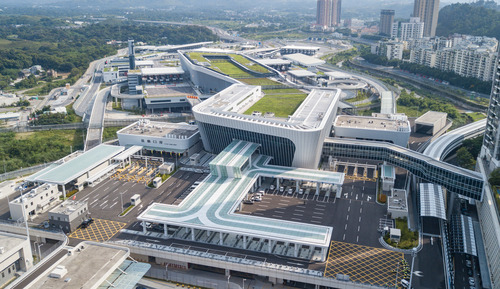 Aerial photo taken on Aug. 24, 2020 shows the Liantang Port/Heung Yuen Wai Boundary Control Point at the Hong Kong-Shenzhen boundary in south China. (Xinhua/Mao Siqian)
BEIJING, Jan. 15 (Xinhua) -- The Guangdong-Hong Kong-Macao Greater Bay Area is speeding up the construction of a world-class cluster of ports and airports, according to a news conference held by transportation authorities in south China's Guangdong Province on Thursday.
Guangzhou, Shenzhen, Zhuhai and Dongguan, which are located on both sides of the Peral River in southern China, have become large ports with 100 million tonnes of throughput, according to Yang Junbo, deputy director-general of Department of Transportation of Guangdong Province.
Guangzhou Port and Shenzhen Port are ranking among the leading ports worldwide, said Yang, adding that in 2020, the deepwater channel widening project of Guangzhou Port was put into operation.
Yang Junbo also revealed that Guangdong Province will join hands with Hong Kong and Macao to build a world-class port cluster covering the Greater Bay Area, and it will speed up the construction of port and shipping infrastructure in Guangzhou Port and Shenzhen Port, and improve the collection and distribution networks of inland waterways, railways and highways.
Priorities will also be given to promoting construcion of the third phase of Guangzhou Baiyun International Airport and the runway expansion of Shenzhen Baoan International Airport, said Yang Junbo.
(Edited by Jiang Feifan with Xinhua Silk Road, 346129473@qq.com)