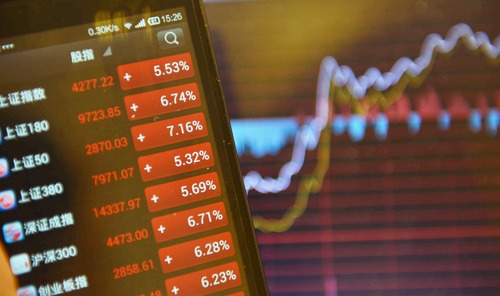 BEIJING, Jan. 14 (Xinhua) -- China's A-share market may embrace over 1 trillion yuan of new fund flows by five types of mid- and long-term investors in 2021, reported Securities Daily Thursday.
The report citing market players said that the five types of investors include publicly-offered funds, foreign investors, wealth management products of banks, insurance capital and social security funds.
In 2021, around 1.9 trillion yuan of new long-term fund may flow into the A-share market thanks to institutions' portfolio demands and under guidance from related policies, Chen Guo, chief strategist with Essence Securities told the newspaper.
Under boosts from the guiding policies, wealth management products of banks and social security funds are expected to become the new sources of long-term investment for the A-share market, likely to spur 150 billion yuan and 160 billion yuan of new fund inflows, added Chen.
The other three types of investors, publicly-offered funds, insurers and foreign investors are anticipated to be the main long-term investment sources for A-share market, likely to bring about 750 billion yuan, 427.2 billion yuan and 240 billion yuan of capital inflows for A-share market. Apart from these, margin trading and securities lending are expected to provide 180 billion yuan of new fund flows for the A-share market.
The newspaper quoted Tu Jingqing, strategic analyst with China Merchants Securities saying that mid- and long-term capital flows into the A-share market is likely to continue under effects from guiding policies this year.
First of all, this round of household investment into the stock market is realized mainly through funds, meaning a longer lasting time which may help maintain high level of publicly-offered funds issuance.
Apart from accepting transference of original wealth management product business of their bank parents, wealth management subsidiaries of banks are rolling out continuously new products such as hybrid and equity-investing wealth management products, which pointed to the likely rise in their proportion of investment in stocks.
What's more, the upper limits of the ratio of equity investment for insurers have been heightened and there is relatively large room for further rises, which, in other words, indicates nearly 100 billion yuan of new fund flows into the stock market.
Besides, the ongoing economic recovery and appreciation of the Chinese yuan are expected to draw continuous inflow of foreign capital, Tu held.
By Wednesday, issuance of 14 equity investment funds have been completed this year, with their combined size at 117.479 billion yuan and net purchases of northbound investment under the stock connect program between the Chinese mainland and Hong Kong Special Administrative Region (HKSAR) achieved 31.178 billion yuan.
In 2020, Chinese regulators voiced for many times to guide mid- and long-term capital into the A-share market. Statistics showed that more than 3 trillion yuan of publicly-offered funds have been issued, with equity investment funds size at 1.69 trillion yuan, up 251.72 percent and marking a new fund source of key importance for the A-share market. (Edited by Duan Jing with Xinhua Silk Road, duanjing@xinhua.org)