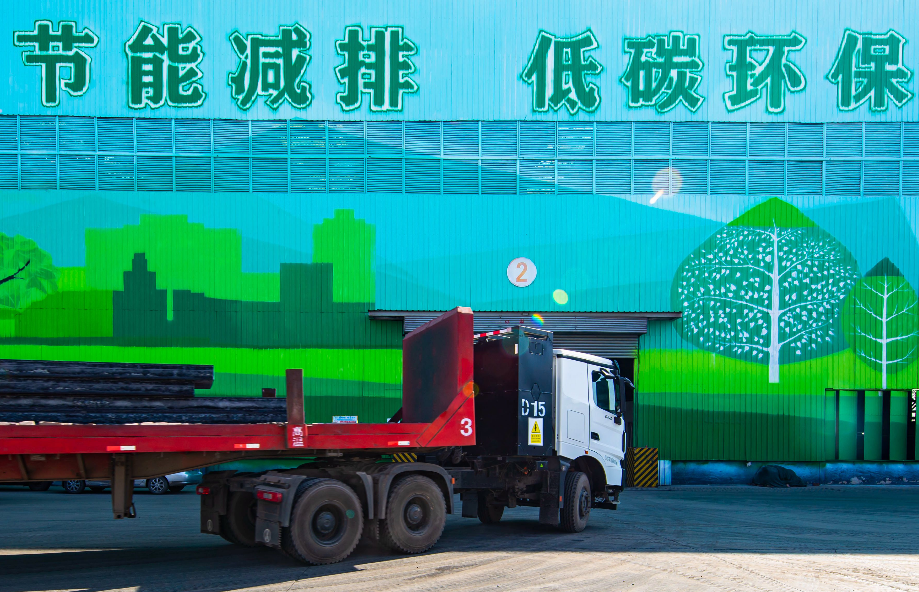 A new energy heavy-duty truck is pictured at Yuhua Steel in Wuan, north China's Hebei Province, Nov. 3, 2020. Yuhua Steel has put into use 200 new energy heavy-duty trucks to help reduce carbon emission in the city of Wuan, a major steel producing area. (Xinhua/Wang Xiao)
BEIJING, Jan. 13 (Xinhua) -- China will unveil a series of policies soon to support efforts for cutting carbon emissions, the Xinhua-run Economic Information Daily reported on Wednesday.
A national emissions trading system (ETS) is expected to be launched officially in the middle of the year. A total of 2,225 power firms that emit over 26,000 tonnes of greenhouse gases per year can start trading their emission quotas in the initial phase, said the report.
Experts estimated that during the 14th Five-Year Plan period from 2021 to 2025, the volume of carbon emissions trading in the country is expected to increase by 3 to 4 times on the basis of that in the 13th Five-Year Plan period. By 2030 when carbon dioxide emissions reach the peak, the cumulative transactions may exceed 100 billion yuan (about 15.44 billion U.S. dollars).
On Jan. 5, the Ministry of Ecology and Environment (MEE) rolled out interim rules for carbon emissions trading management, which will take effect on Feb. 1.
Li Gao, an official of the MEE, said that documents such as greenhouse gas accounting reports and verification, carbon emissions registration, transaction and settlement will be formulated and released to build a basic institutional framework of the national carbon market.
It is noted that as a market-based means to control greenhouse gas emissions, carbon emissions trading has the advantages, such as lower emission reduction costs for the whole society and more flexible options for enterprises to reduce emissions, compared with the administrative means.
The country since 2011 has piloted emissions trading at the regional level involving seven provinces and cities such as Beijing, Shanghai and Shenzhen amid its drive to build a national ETS.
It is worth noting that a total of 3,443 enterprises have participated in the pilot transactions, involving petrochemicals, chemicals, building materials, steel, non-ferrous metals, papermaking, electric power, aviation, and other fields.
Mei Dewen, general manager of the China Beijing Green Exchange, predicted that the country's carbon emissions trading market may see transactions of 250 million tonnes in 2021, with the value at about 6 billion yuan.
The country has announced it would strive to bring carbon dioxide emissions to a peak before 2030 and become carbon neutral before 2060. (Edited by Hu Pingchao with Xinhua Silk Road, hupingchao@xinhua.org)