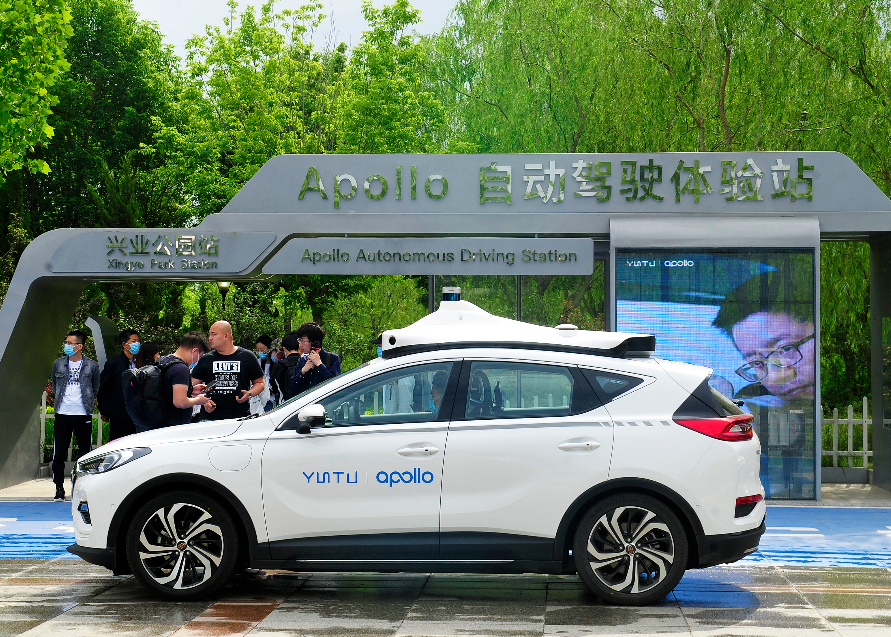 A self-driving car is seen at Cangzhou economic development zone in Cangzhou City, north China's Hebei Province, May 14, 2020. The road test area for intelligent connected vehicles (ICVs) was extended from Cangzhou economic development zone to main urban areas of the city on Thursday. (Xinhua/Mu Yu)
BEIJING, Jan. 12 (Xinhua) -- China's Ministry of Industry and Information Technology (MIIT) unveiled on Monday a draft on the road testing and application for the intelligent connected vehicles (ICVs) to solicit public opinion.
According to the ministry, with the continuous improvement of autonomous driving functions, testing and applications on actual roads and real traffic environments have become actual needs of those enterprises engaged in the autonomous driving technology and the product application and promotion.
Competent departments of the local governments should select a number of typical road sections and areas that support automatic driving and connected functions for the ICVs to carry out road tests or demonstration applications, and announce the roads and areas to the public, said the draft.
Meanwhile, vehicles applying for demonstration applications should undergo road tests for no less than 240 hours or 1,000 kilometers on the corresponding roads.
The release of the draft will help meet actual needs of the whole industrial chain for road testing and application, and accelerate commercial use of the ICVs in the country, said industry insiders.
It is learned that in the past three years, nearly 30 provincial-level governments across the country have issued rules for the implementation of road testing. The length of road sections designated for the ICV road testing has exceeded 2,800 kilometers. A total of 22 cities in 16 provinces have built 30 closed test sites for ICVs.
In addition to the road infrastructure, the country's rapid 5G progress will also accelerate the ICV development.
According to an MIIT official, the ministry will speed up the development of 5G + ICVs this year, and explore solutions to key issues such as application scenarios, operating mechanisms, and business models, to drive a wider range of commercial applications of the ICVs and accelerate development of the ICV industry.
Scale of the country's car networking industry is expected to reach 111.5 billion yuan (about 17.22 billion U.S. dollars) in 2021, estimated by CCID Consulting, a company affiliated with a think tank under the MIIT. (Edited by Hu Pingchao with Xinhua Silk Road, hupingchao@xinhua.org)